Pakistani celebrities voice support for Palestinians in wake of Israeli attacks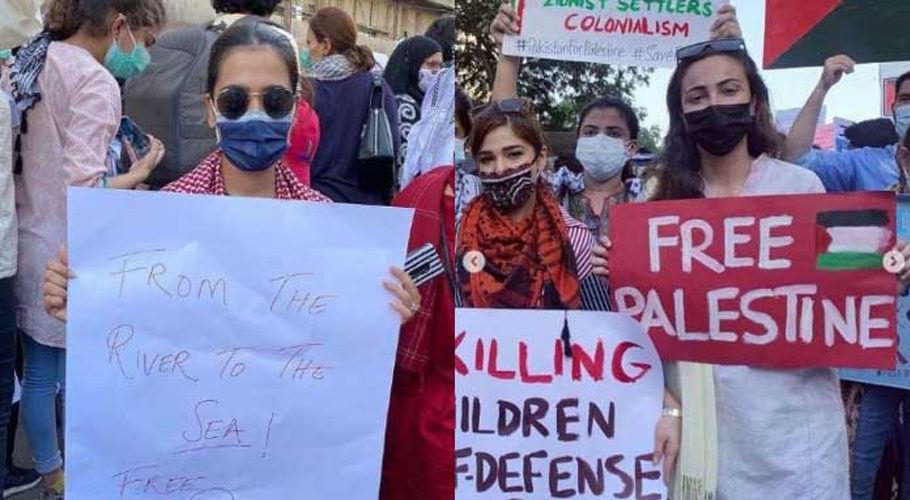 KARACHI: In the wake of the disproportionate attacks by Israeli forces on Palestinians that entered 10th entered its 10th consecutive day, many national celebrities and civil society have voiced their concern and support for Palestinians and underscored that a country with greater military power should demonstrate restraint instead of taking undue advantage.
Celebrities like Mahira Khan, Sheheryar Munawar, Anoushay Ashraf and Ayesha Omar could be seen taking part in the protest which took place at Karachi Press Club on Wednesday.
View this post on Instagram
On this occasion, the celebrities questioned the double standards whereby there is the outrage over other injustices but not Palestinian oppression, with some even saying that it may very well be a "time for sanctions on Israel".
They waved Palestinian flags and held placards that read "End Israeli Apartheid" and "Freedom for Gaza." "Palestinians have the right to live freely and children in Gaza should not be being killed," they said.
Israeli fighter jets continued to pummel the Gaza Strip on Wednesday, flattening residential buildings and raising the death toll to at least 227. The health ministry of Gaza said the dead included 64 children and 38 women.
Meanwhile, Amid intense efforts to reach a ceasefire, United States President Joe Biden informed Israel's Prime Minister Benjamin Netanyahu on a phone call that he expects "significant de-escalation" on Wednesday in the violence with the Palestinians.
The president conveyed to the prime minister that he expected a significant de-escalation today on the path to a ceasefire," the White House said after a fourth phone call in a little over a week.
Earlier, the United Nations Security Council met on Sunday to discuss the violence but failed to agree on even a joint statement of concern. Meanwhile, the Organisation of Islamic Cooperation (OIC) in a joint statement called for an immediate halt to what it described as Israel's barbaric attacks on Gaza and blamed "systematic crimes" against the Palestinians.
The OIC statement came after a virtual meeting in which Saudi Arabia condemned the violation of the sanctity of Muslim holy sites and evictions of Palestinians from their homes in East Jerusalem.
The 57-member body accused the United Nations Security Council of inertia. Malaysia, Indonesia and Brunei issued a separate statement, tweeted by Malaysia's premier, calling for an emergency U.N. General Assembly meeting.
Saudi Arabia, Bahrain and the United Arab Emirates called for a ceasefire. The UAE and Bahrain had along with other Arab states last year broken a longstanding taboo in the region by establishing formal ties with Israel, with tacit approval from Gulf power Riyadh.
"De-escalation and the highest degree of restraint are important to avoid dragging the region to new levels of instability," said UAE Minister of State for International Cooperation Reem al-Hashimy.
Saudi Foreign Minister Prince Faisal bin Farhan Al Saud opened the OIC meeting by urging the global community to end the escalation in violence and revive peace negotiations based on a two-state solution.
Turkish foreign ministry sources said Foreign Minister Mevlut Cavusoglu called for an international protection mechanism for Palestinian civilians and told the OIC that Israel should be held accountable for war crimes and that the International Criminal Court could play a role.
His Iranian counterpart Mohammad Javad Zarif urged the international community to start a "political and legislative" campaign against Israel, Iranian state media said.
Foreign Minister Shah Mahmood Qureshi has condemned Israel's massacre in Gaza in strong words, urging the international community to take steps to end the massacre in Gaza being conducted by Israeli forces.
Blaming the Israeli forces for killing unarmed Palestinians, the minister said it was up to the international community to take concrete measures to stop the bloodbath in Palestine.