Pakistan signs $107m debt suspension agreement with France: Economic Affairs Division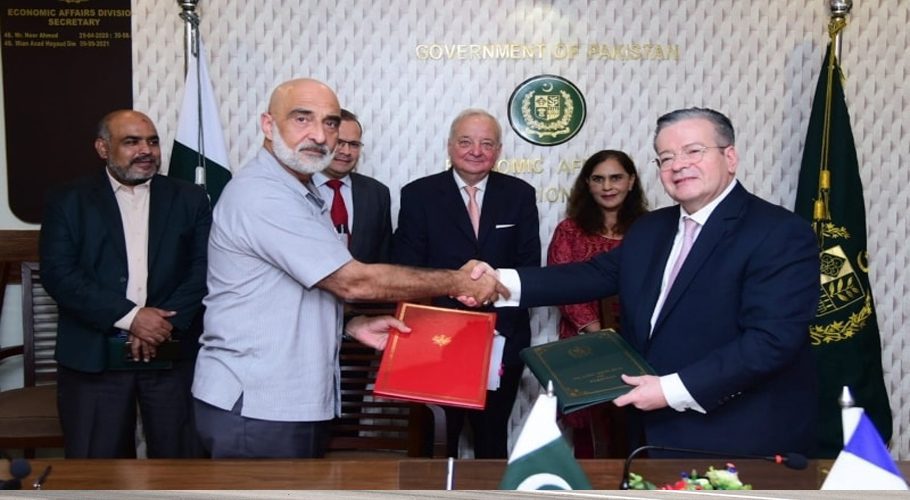 ISLAMABAD: Pakistan and France have signed an agreement for the suspension of loans amounting to $107 million, the Economic Affairs Division said on Monday. It is pertinent to recall, that the global debt payments suspension initiative of the G-20 countries has provided temporary relief of around $3.68 billion to Pakistan so far, reducing immediate borrowing requirements by the same amount.
Economic Affairs Division stated that Pakistan has also inked loan deferred agreements with G-20 countries worth $3.68 billion.
In a press statement, The Economic Affairs Division stated Pakistan and France have inked an agreement deferring payment of $107 million. The agreement was signed by the Secretary of Economic Affairs Division, Mian Asad and France's envoy Nicolas Galey.
The Government of Pakistan signed a Debt Service Suspension Agreement with the French Republic, amounting to suspension of loans worth USD 107 million, under the G-20 Debt Service Suspension Initiative (DSSI) framework. pic.twitter.com/C5NmAkW34O

— Economic Affairs Division, Government of Pakistan (@eadgop) June 27, 2022
The Economic Affairs Division further stated the amount, initially repayable between July and December 2021, would now be repaid over a period of six years — including a one-year grace period — in semi-annual instalments.
The statement added, "The government of Pakistan has already signed agreements with the French Republic for suspension of $261m. Due to the support extended by the development partners of Pakistan, the G20 DSSI has provided the fiscal space which was necessary to deal with the urgent health and economic needs of the Islamic Republic of Pakistan."
According to the press release Pakistan has already concluded and signed 93 agreements with 21 bilateral creditors for the rescheduling of its debts under the G-20 DSSI framework, amounting to rescheduling of almost $3,150 million. The signing of mentioned agreements brings this total to $3,257 million."
It added that negotiations were ongoing for the remaining agreements to be signed under the DSSI framework.
Moreover, the Pak-IMF deal over a tranche of $1 billion is expected to be sealed on Monday as IMF plans to hand over Pakistan the economic and financial policy.
The International Monetary Fund (IMF) will hand over the economic and financial policy for the renewed deal providing an economic relief package to Pakistan, the finance ministry further said.