Opposition will neither resign nor hold long march: Sheikh Rasheed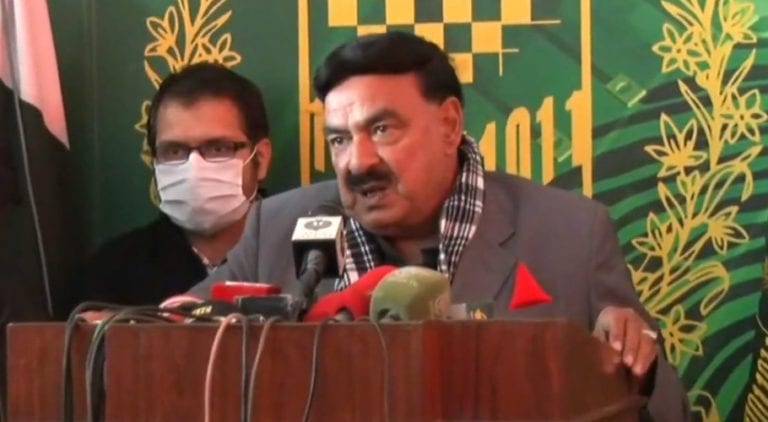 RAWALPINDI: Interior Minister Sheikh Rasheed Ahmed on Saturday the opposition will not resign from the assemblies or hold a long march to Islamabad.
While talking to media after visiting the office of NADRA, the federal minister said opposition leaders should stop dreaming about seizing the federal capital. "The PDM should march to Islamabad, we are waiting to welcome them," he said, adding the prime minister will not compromise on the accountability process.
He said that the passport of former prime minister Nawaz Sharif is expiring on February 16 and it will not be renewed. He said that Pakistan Democratic Movement (PDM) parties took the decision to take part in Senate polls after the Pakistan People's Party (PPP) back out.
"Their resignations are in lockers now. They will neither boycott by-elections nor Senate election. They can organize a long march. Those who are not willing to resign can come forward till February 20," he said.
The interior minister announced that 'Eagle Squad' will be introduced soon for security in Islamabad and the force will be equipped with the latest technology.
He said that the check posts will also be modernized by the government He added that he has summoned a session of all Inspectors General (IG) of police on Monday.
He said the online visa facility has been provided for 192 countries and over 200,000 applications were received in a day for online visas. He said there are 1.5 million Afghan refugees and 800,000 citizens allowed to live in Pakistan.
He said 300 mobile vans of NADRA and fifty centres will visit areas across Pakistan to facilitate the masses in far-flung areas. He said 200,000 National Identity Cards (NIC) have been blocked and reiterated the first card will be blocked
He announced that strict action will be taken against those delivering derogatory remarks against state institutions and such complaints will be registered within 72 hours.