Motorway gang rape case: Alleged suspect surrenders to police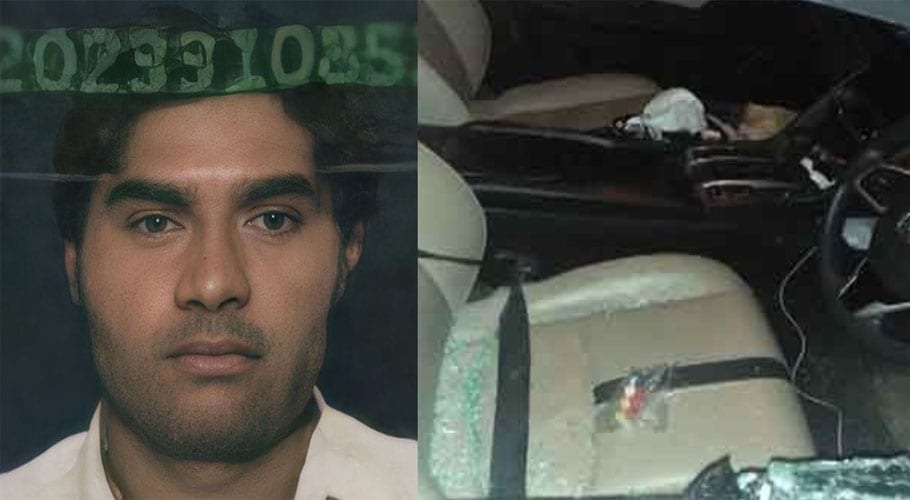 LAHORE: A suspect in the motorway gang rape case surrendered before the Crime Investigation Agency (CIA) Police Station in Model Town Lahore and claimed that he was not involved in the incident.
Waqar-ul-Hassan, an alleged co-accused of the prime suspect was among the two suspects identified by the Punjab government on Saturday for their involvement in the heinous crime which has angered the whole nation and prompted countrywide protests.
Pictures of both suspects Abid Malhi and his accomplice Waqarul Hasan Shah in the Lahore Motorway rape incident were released to the public.
In his initial statement, the suspect refused his involvement in the gang-rape incident and added that he has nothing to do with the incident.
It may be noted that one of the prime suspects Abid Ali, whose DNA matched the samples recovered by the gang-rape victim in the appalling the Lahore Motorway incident, has previously been booked in eight crimes by Punjab police as well.
Earlier, Punjab Chief Minister Usman Buzdar had announced that the provincial government has reached the real culprits in the Lahore motorway gang-rape.
Addressing a press conference in Lahore on Saturday along with Inspector General of Police Punjab (IGP) Inam Ghani and Law Minister Raja Basharat, CM Buzdar had said that Punjab police have identified both the suspects within less than 72 hours.
The Chief Minister vowed that the culprits will be arrested soon and also announced Rs2.5 million rewards for any information leading to their arrest. He also said he had personally talked to the victim and assured her of justice.
He further said that the investigation of the case was started in a scientific manner and he was personally monitoring the probe. "The beasts involved in the incident will soon be arrested and given appropriate punishment as per the law," he added.  
یہ دونوں ملزمان لاہور سیالکوٹ موٹر وے زیادتی کیس میں مطلوب ہیں اس حوالے سے اگر آپ کے پاس کوئی معلومات ہیں تو براہ مہربانی پولیس نمبر 15 پر اطلاع کریں.معلومات فراہم کرنے والے شہری کا نام نہ صرف صیغہ راز میں رکھا جائے گا بلکہ 25 لاکھ روپے انعام بھی دیا جائے گا۔#motorwayincident pic.twitter.com/e8UZJIknsW

— Punjab Police Official (@OfficialDPRPP) September 12, 2020
Referring to the CCPO Lahore issue, Usman Buzdar informed that IGP Punjab Inam Ghani has issued a show-cause notice to CCPO Umer Sheikh over his remarks in which he allegedly blamed the Lahore gang-rape victim.
"IGP has directed CCPO Lahore to submit a reply within seven days," Buzdar said, adding that legal action would be taken against the CCPO after the submission of his reply.
On the occasion, IGP Punjab Iman Ghani informed that the police have the entire record of both suspects in the case. "A special investigation was constituted in which officers from the CTD, Special Branch, and an officer from the unit of violence against women were a part of the team," Ghani added.