KSE 100 index plunges by 1162 points as global markets fall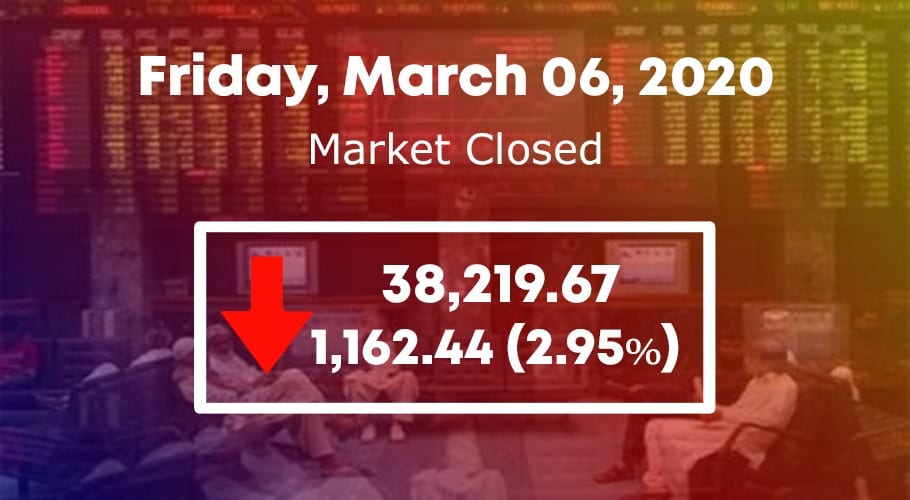 KARACHI: The stock market plunged on Friday on the final day of the week ending yet another dismal week on a downward trajectory.
The benchmark KSE 100 index nose-dived by 1162.44 points and closed at 38,219.67 points. This marked a decrease of 3.04 percent within a day. The total volume of shares was 198.565 million valued at Rs10.355 billion.
The lower bench KSE 30 index also decline by 696.71 points (3.85%) and closed at 17,385.40 points. The total volume of shares was 128.589 million. The shares prices of the top active stock declined notably MLCF (-0.64%), FCCL (-2.24%), PIOC, (-1.12%), DGKC (-0.34%), UNITY (-3.64%) TRG (-5.55%), HASCOL (-4.49%) , followed by PAEL (0.43%) Power Cement (-4.58%) and OGDC (-6.54%).
Global stock markets also slumped on Friday notably in Asia leading to heavy losses on Wall Street on growing signs the coronavirus will lead to an economic downturn. About $9 trillion has been wiped off global stocks in nine days and investors are nervous about the outbreak. Asian, European and US stocks were down on Friday.
The price of oil has seen a downward slide despite OPEC plans to slash the supply of crude oil to world markets by 1.5 million barrels a day. The price of Brent crude was down more than four percent at $47.80 a barrel.
Yesterday the local stock market rebounded on speculations that the State Bank of Pakistan (SBP) would cut the monetary policy rate. Investors resorted to across the board share trading and went on a buying spree and closed on a positive trend with an increase of 475 points.