Kashmiris accuse Indian troops of torturing locals
Srinagar: Kashmiris alleges Indian troops of raiding their houses and inducing physical torture on residents.
Bashir Ahmed Dar, a 50 years old plumber in Kashmir was subjected to torture and beating by Indian troops. He was whisked away by Indian soldiers who raided his house to apprehend his younger brother. 
The younger brother of Dar had joined a rebel group, and when the troops could not find him, they took his elder brother to the torture camp.
In more than 50 interviews, residents in a dozen villages in Kashmir told The Associated Press that the military had raided their homes since India's government imposed a security crackdown in the region Aug. 5. They said the soldiers inflicted beatings and electric shocks, forced them to eat dirt or drink filthy water, poisoned their food supplies or killed livestock, and threatened to take away and marry their female relatives.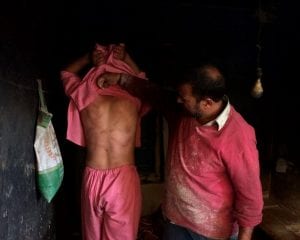 When inquired by the Associated Press for a response to the recent allegations of abuse from the Northern Command, the Indian army's headquarters in Jammu and Kashmir. Its spokesman based in the main city of Srinagar, Col. Rajesh Kalia, dismissed the villagers' accounts as "completely baseless and false," and asserted the Indian army values human rights.
"There have been reports of movement of terrorists" in the areas AP visited, Kalia said. "Some youth were suspected to be involved in anti-national and disruptive activities and were handed over to police as per law of the land."
As per the Associated Press, thousands of others have been detained in police lockups to be screened for the potential to join protests. Some have been freed and asked to report back a few days later. Some are only held in the daytime, released at night to sleep at home, while their parents are told to bring them back the next day, told by the AP.