Karima Baloch – a courageous human right activist from Balochistan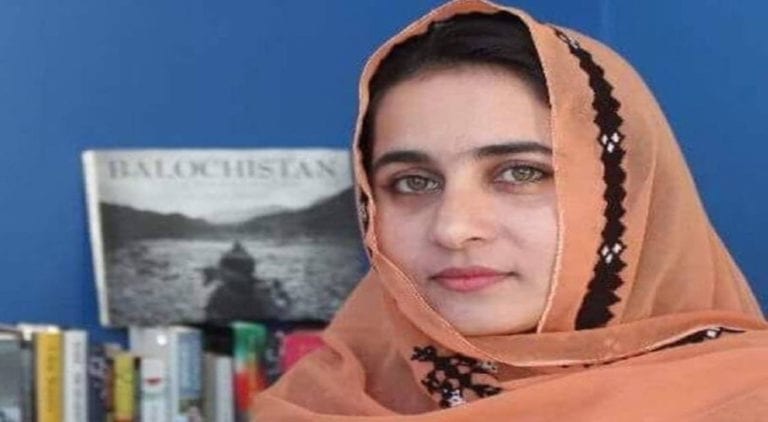 A dissident human rights activist living in exile in Canada, who campaigned for the rights of missing persons and enforced disappearances, has been found dead in Toronto after going missing.
Karima Baloch, aged 37, was granted asylum in Canada in 2016 after her work as a human rights activist in Balochistan had led to her being followed and receiving threats. Her struggle has inspired several women from Balochistan to fight for their rights.
Who is Karima Baloch?
Karima Baloch, who hailed from Balochistan and was also known as Karima Mehrab, was the first chairperson of the Baloch Students Organization (BSO-Azad), a political student organization. She had been advocating for the rights of missing persons in the province facing a long-running insurgency movement and raised the ongoing contentious issue of enforced disappearances.
She hailed from district Kech and completed her B.A. from Turbat and enrolled for M.A. from the University of Balochistan but did not graduate due to her political activities.
She has two sisters and one brother while her father worked at a construction firm in Muscat, Oman. In 2014, her house was demolished by security forces after which her family moved to Karachi while her brother sought employment in Dubai.
Baloch Student Organisation
Karima Baloch became a well-known activist in the region and was the first female head of the Baloch Students Organisation (BSO), which is now a banned activist group.
Her first public exposure as an activist was in 2005 in Turbat area where she attended a protest over missing youth Gohram carrying the picture of one of her missing relatives.
Several members of Baloch's family had been allegedly linked to the Baloch resistance movement over the years. Two of her uncles, a brother of her mother and a brother of her father, had gone missing and were found dead.
She joined the BSO in 2006, serving in several different positions in the following years. The group was officially banned by the government in 2013, but continued to operate and Baloch became chairperson in 2015.
She was the first woman who set up the tradition of marching from Turbat to Quetta. In 2014, she held a long march with local tribal women from Thamp, district Kech to Turbat. In 2013, security forces opened fire but she appeared undeterred and continued to march forward.
Life in exile
A few months later, she went into exile after terrorism charges were filed against her. In Toronto, she married a fellow activist, Hamal Baloch, and remained active both on social media and in human rights activities in Canada and Europe.
In 2016, Karima courted immense controversy when she appealed to Indian Prime Minister Narendra Modi to become the voice of the Baloch struggle. The Indian prime minister has raised the Balochistan issue in his speech on Independence Day
Since moving to Canada, Baloch had continued to be vocal about human rights abuses in her home province and across Pakistan. She regularly spoke at conferences, addressed the media and attended protest rallies in Canada. She was listed by the BBC in its 100 most inspirational and influential women of 2016 for her work in human rights.
Death
Karima Baloch was found dead in Toronto on Monday December 21, a day after she went missing. She had been facing life treats but police have ruled out foul play. Toronto police issued an appeal after she went missing and later confirmed that her body had been found.Police said there were "not believed to be any suspicious circumstances".
Baloch is the second Pakistani dissident from Balochistan living in exile to be found dead this year. In May, Sajid Hussain, a journalist who wrote about human rights violations in Balochistan, was found dead in a river in Sweden, where he had sought asylum after threats to his life in Pakistan.
A month ago, her husband had received multiple threatening messages over social media after raising the issue of human rights violations in Balochistan. A close friend of her Latif Johar she was receiving threats while in Canada.
The Balochistan National Movement (BNM) has announced a 40-day mourning period on her death. Amnesty International South Asia that her death was shocking and should be "effectively investigated", while the Human Rights Council of Balochistan requested the Canadian government to look into the matter.