Kangana Ranaut comes out in support of Nupur Sharma over her derogatory remarks
Bollywood actress Kangana Ranaut has come out in support of BJP leader Nupur Sharma over her derogatory remarks on the Prophet (PBUH).
The Dhaakad actress, who will be next seen featuring in 'Tejas', 'Emergency' and 'Tiku Weds Sheru'. took to her social media and shared a statement on Sharma's derogatory comments against Prophet Muhammad (PBUH).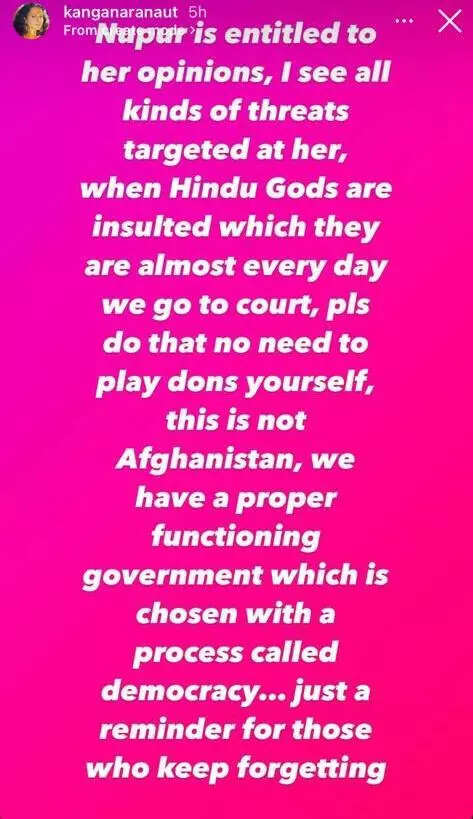 She shared a story on her Instagram, "Nupur is entitled to her opinions, I see all kinds of threats targeted at her, when Hindu Gods are insulted which they are almost every day we go to court, pls do that no need to play dons yourself."
On the other hand, many Bollywood actors came forward and spoke against Nupur Sharma. From Farhan Akhtar, and Swara Bhasker to KRK, all showed their concerns over the hateful remarks made by the BJP leader.
Read more: Nupur Sharma's derogatory remarks: Here's how Pakistani and Indian celebrities reacted
India is in the midst of a diplomatic nightmare over controversial comments made by a senior official from the governing Bharatiya Janata Party (BJP) about the Prophet Muhammad (PBUH).
Nupur Sharma's remarks, made in a TV debate about 10 days ago, have incensed Indian Muslims and outraged more than a dozen Islamic nations. Former BJP spokesperson Nupur Sharma's derogatory remarks on Prophet Muhammad (PBUH) have turned into a diplomatic issue with many Arab nations expressing their displeasure.
The UAE, Oman, Indonesia, Iraq, the Maldives, Jordan, Libya and Bahrain have joined the growing list of countries in the Islamic world that have condemned the remarks. Earlier, Kuwait, Iran and Qatar had called Indian ambassadors to register their protest, and Saudi Arabia had issued a strongly-worded statement.