Israeli warplanes launch airstrikes in Gaza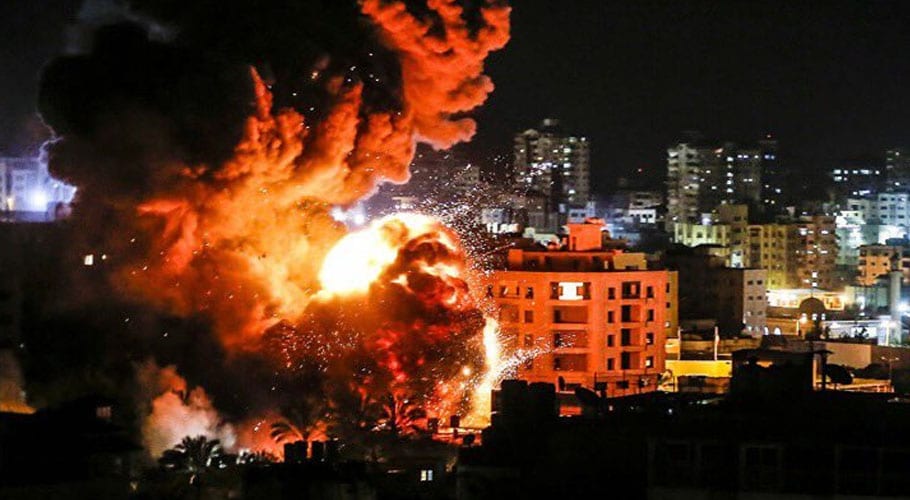 GAZA: Israeli warplanes carried out a third round of airstrikes in Gaza early Friday morning.
It was in response to a rocket barrage several hours earlier, capping off a night that saw multiple rounds of missile launches and reprisal raids as simmering tensions threatened to break into the open.
The Israel Defense Forces said that at around 6 a.m., fighter jets and other aircraft carried out strikes on underground infrastructure belonging to the Hamas terror group, in response to the attack earlier in the evening in which seven rockets were fired at southern Israel from the Strip.
Read more: Palestinians protest in West Bank against Israel-UAE deal
At least six of the rockets were intercepted by the Iron Dome missile defense system. A home in the southern Israeli town of Sderot sustained considerable damage in the attack.
However, social media users have condemned the attack on Gaza. "GazaUnderAttack" has become the top trend on Twitter.
These scenes aren't from any Hollywood movie this is the situation of Gaza right now.
Whole media all the human rights champs are silent over this atrocious condition of Gaza people
STILL WE'VE THE AUDACITY TO CALL OURSELVES HUMAN #GazaUnderAttack pic.twitter.com/Gw7HUBAKzr

— SyeDa Fatimah HuDa 🌸 (@syedaFatimahuda) August 21, 2020
GAZA NEEDS OUR ATTENTION.

Gaza is being bombed for the 10th consecutive night with zero media coverage.

Use the power of social media & let poeple know what's happening to these poor people.

They don't even have enough food, electricity or medical aid. #GazaUnderAttack pic.twitter.com/rjJixr6W63

— Komal Shahid (@ArmedWithWords) August 21, 2020
The same people who feel justified shooting refugees arriving in dinghies, expect Palestinians to endure decades of illegal occupation without complaint.
That's white privilege for you.#GazaUnderAttack #FreePalestine #ApartheidIsrael

— Kerry-Anne Mendoza (@TheMendozaWoman) August 21, 2020
two pictures of two deferent countries!!
one of #GazaUnderAttack
second #CaliforniaWildfires
One Human plant's
second Animals
but both looks a same as wildlife
no Humanitarian ad 🚨#GazaUnderAttack#PrayForColifornia pic.twitter.com/H4Hh4zEKAn

— Aashir Abbas ( stay away from Positive ppl ) (@aashirsolangi) August 21, 2020
Once again Gaza on the verge of oppression but no one is explaining and justifying Israel worst anexation. All the human rights organization sleeping like dead bodies. Sad no one can speak against inhumanity and imoral activities in #palestine & in #Kashmir #GazaUnderAttack pic.twitter.com/gnbuB8q4KE

— Humza Dastgeer (@iamhumzadastgir) August 21, 2020