Imran Khan announces to hold public gathering at Minar-e Pakistan on Sunday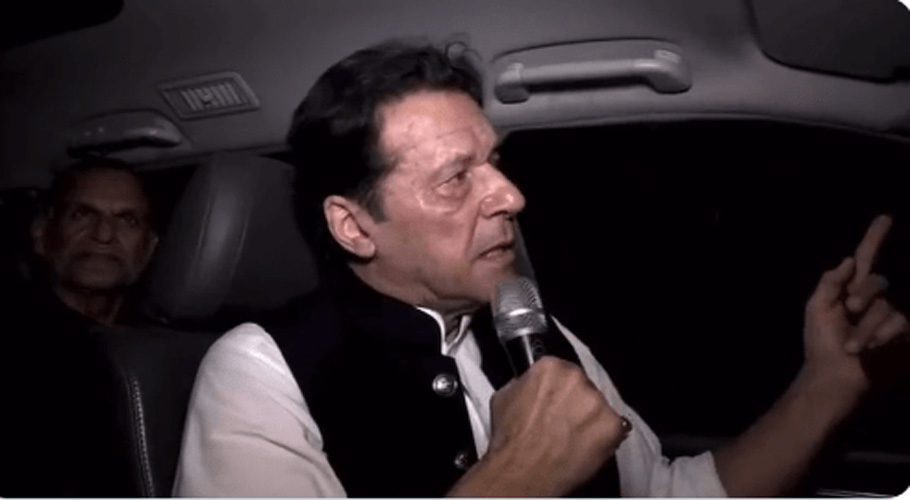 Lahore:  Pakistan Tehreek-e-Insaf (PTI) Chairman Imran Khan said he would hold public gathering at Minar-e-Pakistan on Sunday.
"I'm fighting this war for everyone and not for my personal gains, because the whole country is at the verge of collapse," said Imran Khan while addressing the party workers during his rally on Monday.
He said they faced huge hurdles in the way of taking out a rally as they imposed bars on them.  PTI Chief said that Thoshakhana case was now exposed.
"Everybody will stun when the foreign findings of PML-N and PPP will be exposed. This revelation will be soon there before the public," said the PTI Chairman.
He announced that they would hold public gathering at Minar-e-Pakistan on Sunday at 2pm.
"Lahorites! this public gathering will be the sixth gathering in twelve years. We will hold this public gathering in the day light so everyone could see the real gathering. Lahorites! Get ready for Sunday gathering," said Khan, lashing out at the PDM leaders.
He said that they needed collective efforts for this country.
Khan said that he was booked in over 80 cases and every day, a new case was being registered against him.
"We need collective efforts for the future of this country," he said, urging the Lahorites to join his cause.
Earlier on Monday, Imran Khan  led  an election rally in the Punjab capital to kick start his campaign ahead of polls in the province.
The rally began with nearly two hours delay from his residence, Zaman park, as it was scheduled to kickstart at 2pm. The political carvan concluded at Data Darbar where the PTI chief  addressed the people.
Police had taken strict security measures as roads connecting to the route of the rally were blocked while personnel had been deployed at different points to avoid any untoward situation.