Hira Mani regrets making controversial comments on Dua Zehra case
Hira Mani, who is often bashed for her controversial statements that trigger Pakistani citizens in most possible ways, recently advocated the relationship of Dua Zehra and Zaheer Ahmed. 
Those who are unaware should know that in April, Dua Zehra who resides in Karachi went missing from her house and was later recovered from Lahore where she had "eloped", as per reports.
She was allegedly forced into marriage with Zaheer Abbas. Even with provided DNA test, clearly shows that the teenager who earlier claimed that she was 18 years old, was not old enough to consent to marriage.
Read more: Netizens bash Hira Mani for dancing in London concert
Hira Mani in a post recently supported Dua Zehra and Zaheer and prayed that they remain together forever. She posted this on her Instagram stories and soon faced massive criticism. She did not stop here and called herself emotionally correct if not politically right.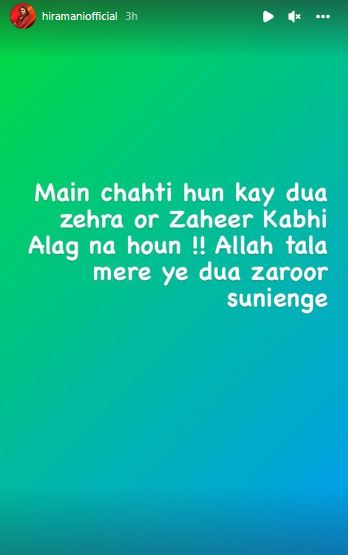 However, now, she has uploaded an aplogitic video in which she has cleared her stance that she was unaware of the fiasco as she was out of town. She did not know that Dua Zehra was an underage child and it was a case of kidnapping.
 

 

View this post on Instagram

 
Crying Hira Mani apologized to her fans as well as Dua Zehra's parents for being insensitive. She added that it also hurt as she is also a mother and admitted that it was her failure to know the actual facts behind the story which sparked a controversy.