FM Qureshi lauds Saudi's leadership for resolving issues with Yemen through diplomacy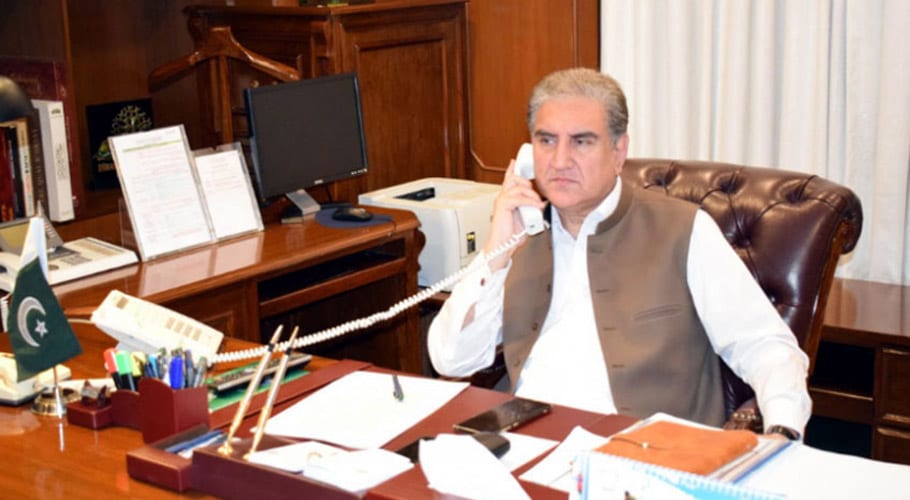 ISLAMABAD: Foreign Minister Shah Mahmood Qureshi has lauded Saudi Arabia's leadership in resolving differences among the countries of the Gulf Cooperation Council (GCC), as well as the recent initiative for promoting resolution of issues in Yemen through dialogue and diplomacy.
According to the Ministry of Foreign Affairs (MoFA), Qureshi expressed these views during a telephonic conversation with Saudi Foreign Minister Prince Faisal bin Farhan Al-Saud, who acknowledged Pakistan's continued and steadfast support to the kingdom.
Pakistan's continued support for Saudi efforts aimed at promoting peace, security and prosperity in the region, FM Qureshi underscored. He also reiterated Pakistan's support for the kingdom's territorial integrity and sovereignty.
Praising the "Saudi Green Initiative" and the "Green Middle East Initiative" announced by Crown Prince Mohammad bin Salman, Qureshi termed it a major initiative for reducing global carbon emissions.
On this occasion, the Saudi foreign minister appreciated Prime Minister Imran Khan's ground-breaking steps already taken in Pakistan on the same ground. The two foreign ministers agreed to maintain a steady momentum of high-level exchanges between the two countries.
On March 22, Saudi Arabia presented a new peace initiative to end the war in Yemen, including a nationwide ceasefire and the reopening of air and sea links. The offer was welcomed by the Saudi-backed Yemeni governments in a statement from the foreign ministry based in the southern port of Aden.
However, the Houthis said the proposal offered nothing new, as it still fell short of their demand for an entire lifting of the blockade on Sanaa airport and Hodeidah port.
The kingdom has been under growing pressure to put an end to the six-year Yemen divergence ever since the new US government signaled that Washington would no longer support Riyadh's intervention.
The divergence, extensively seen as a surrogate war between Saudi Arabia and Iran, has been stalemated for years while millions of people are on the edge of hunger.