Flight schedule disrupted by bad weather at many airports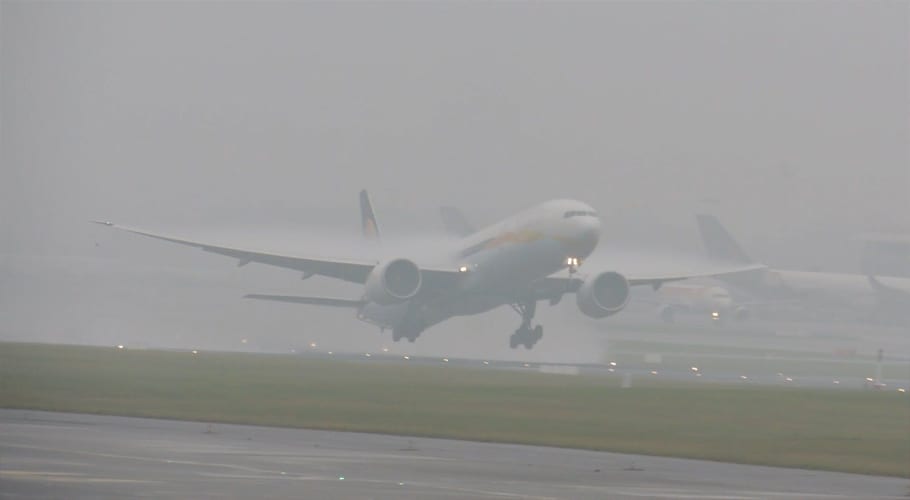 ISLAMABAD: Several airports including Lahore, Sialkot, Multan and Faisalabad have suspended severe flights due to inclement weather on Thursday.
Pakistan International Airline's (PIA) flight from Riyadh-Multan number PK-730 arrived in Karachi due to bad weather. The PIA spokesperson said that the flight would launch again for Multan to receive clearance on the weather.
READ MORE: SHC adjourns hearing of hike in petroleum prices for 5 days
The PIA spokesman said that Passengers are given facilities by the staff at Karachi airport, adding that other passengers have to contact the call center before they arrive at the airport.
A delayed flight from Islamabad to Dubai led to passenger demonstrations at the airport. The protest also delayed the departure of other international flights as passengers gathered around the counters of the Civil Aviation Authority (CAA) that stopped the process of boarding.
Earlier, the Pakistan Meteorological Department (PMD) on Thursday said that fog will encompass plain areas of Punjab, few districts of Khyber Pakhtunkhwa and upper Sindh for the next few days during the night and morning hours.
READ ALSO: Gas shortage may increase double in next year
According to the Pakistan Meteorological Department (PMD), the synoptic condition suggested the passage of a deep western wave from the upper parts of the country to the eastern divisions. In most parts of the country, cold and dry weather is predicted, while in the northern parts it will be very cold.