Five-day anti-polio campaign begins across the country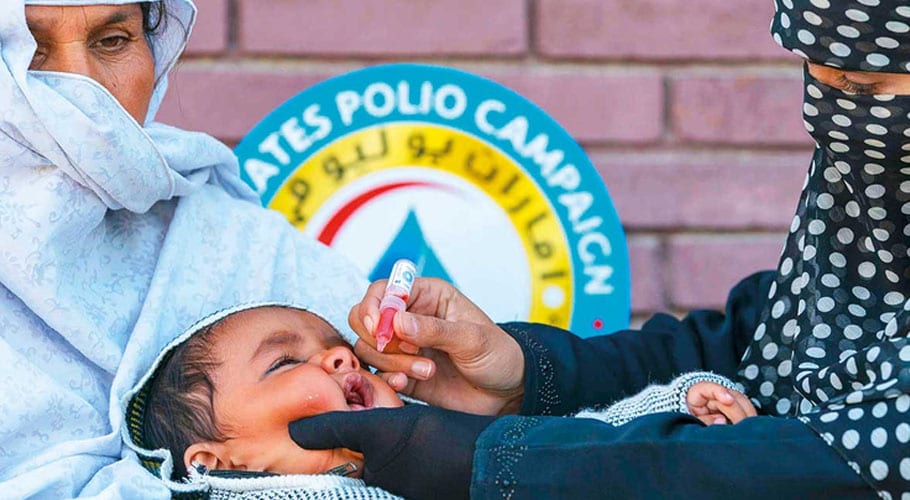 KARACHI: A five-day anti-polio vaccination campaign has begun across the country from today.
As the National Polio Programme is set to launch this year's last vaccination drive from today it must be noted that the tally of polio cases across the country reached up to 98in 2019.
More than 19 million children below the age of five will be administered anti-polio drops as part of a campaign and in Sindh over 2.3 million children, while in Khyber Pakhtunkhwa and Balochistan over six point seven million and 2.5 million children up to five years of age will be administered anti-polio drops respectively.
Prime Minister Imran Khan has always expressed serious concern over the recent spike in polio cases in the country.
Read more: Anti-polio drive to begin from Dec 16 in Sindh, says minister
He urged all Pakistanis to support the government's anti-polio efforts to ensure national economic development and build a positive image of the country. While launching the National Immunization Campaign in Islamabad, the prime minister said that the eradication of the poliovirus was vital to ensure the future of not only children but also the entire nation. 
With the latest confirmation of the crippling virus in the three children, aged between four and eight months, the total number of polio cases in Pakistan has surged to 104 during the current year.
Also read: Khyber Pakhtunkhwa reports another four polio case
In this regard, the government of the United Arab Emirates is determined to help Pakistan eradicating polio by 2022 through its Emirates Polio Campaign.
Pakistan is among the three countries in the world, including Afghanistan and Nigeria, where poliovirus still exists.
Pakistan remains under a polio-linked travel restriction imposed on the recommendation of the World Health Organisation due to which every person traveling abroad has to carry a polio vaccination certificate.
Polio is a highly infectious disease caused by poliovirus mainly affecting children under the age of five. It invades the nervous system and can cause paralysis or even death. While there is no cure for polio, vaccination is the most effective way to protect children from this crippling disease.