First Lady Bushra Bibi inaugurates Sufism research center, e-library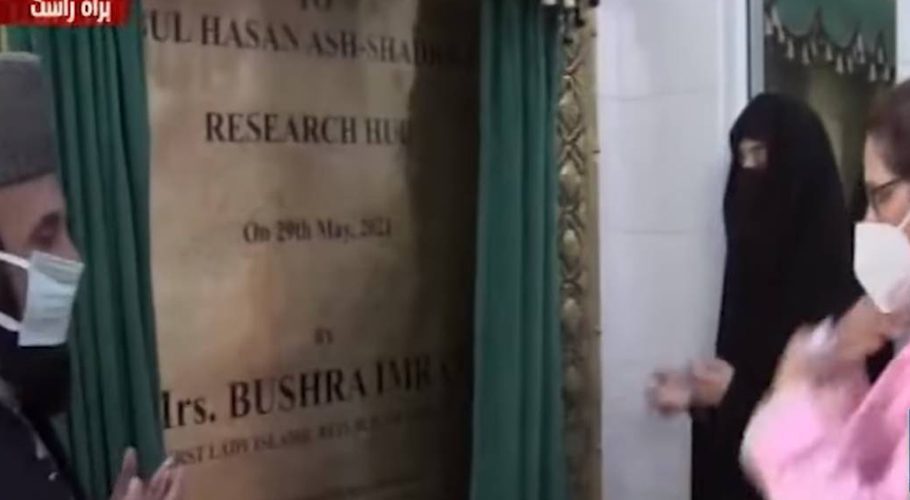 LAHORE:  Prime Minister Imran Khan's wife and First Lady Bushra Bibi has inaugurated Sheikh Abul Al Hassan Shazli Sufism and Research Center and its e-library in the provincial capital on Saturday.
The First Lady Bushra Imran along with Farah Khan also paid visits to different sections of the research center and spoke on the occasion over the importance of having such an institution that focuses on Islamic history and Sufi education besides social sciences and hard sciences.
The research center will conduct research on Islam, Sufism, religious thought, tolerance, science and technology and modern sciences. Bachelors, M.Phil and Ph.D. programs in Islamic philosophy and Sufism will also be launched in the center.
Sheikh Abul Hassan Shazli Research Center would serve the poor students all the same and those passionate about getting an education despite financial restrictions. It has signed MOUs with other universities as well.
The first lady has previously worked to significantly improve the management of Panagah (shelter home), Langar Khana (soup kitchen), Dar-ul-Aman and Child Protection Bureaus in various cities.
Bushra Imran while distancing herself from politics has always participated in social activities. Earlier, referring to her contributions to Prime Minter Imran Khan's achievements, the First Lady Bushra Bibi had said "behind every successful man, there's his wife."
Talking to the media during a visit to a Panahgah near the shrine of Hazrat Data Ganj Bakhsh (RA), she said "There is a bundle of facts behind every successful man, there is a woman."
Accompanied by her close friend, Farhat Shehzadi, also known as Farah Khan, Bushra Bibi said seeing the Lahore shelter "this time made me extremely blissful." Bushra Bibi said the PTI government has given shelter to people sleeping under the open sky" but clarified that it was "not a favor to them but their right."
"Funds will be provided on a priority basis for the necessary repairs to shelter buildings," she added, noting that all kinds of resources were available to tackle the issue.
During the visit, the First Lady inspected the facilities at the shelter and asked about accommodation from the people living there. She also checked the quality of food by having some of it herself.
Bushra Bibi asked the Panahgah's residents about their issues and assured them of immediate solutions. She directed concerned officials to ensure further improvement in the shelter provision, accommodation, and facilities. On this occasion, citizens expressed gratitude to the First Lady for taking a personal interest in resolving the issues.