Federal Minister expresses displeasure over Dr Athar Ata's unapproved leave
KARACHI: The federal education minister has expressed his utmost displeasure about Dr. Athar Ata, Permanent Vice Chancellor of Urdu University, going abroad on unapproved leave, asking him to return before July 16. Meanwhile, the Federal Minister of Education has appointed Dr. Zia-ud-Din, Head of Faculty of Arts, as the caretaker Vice chancellor till July 15.
As per details, Prof. Dr. Athar Ata had sent his leave request to President of Pakistan on June 20 through education ministry asking leave from July 1 to 20. However, without waiting for approval, the Vice-Chancellor got an allowance of Rs.595,000 as a one-way fare and left for Canada.
The Federal Minister for Education and Training's joint secretary Raja Muhammad Akhter Iqbal wrote to Vice Chancellor in a letter No. F.NO3-20 / 2021 / IC- ||, in which the secretary has expressed his displeasure over the behavior of Vice-Chancellor regarding his leave request. And directed him to cancel his visit to Canada because the procedure he had adopted is not in line with the Cabinet decisions of October 20, 2018 regarding leave of absence.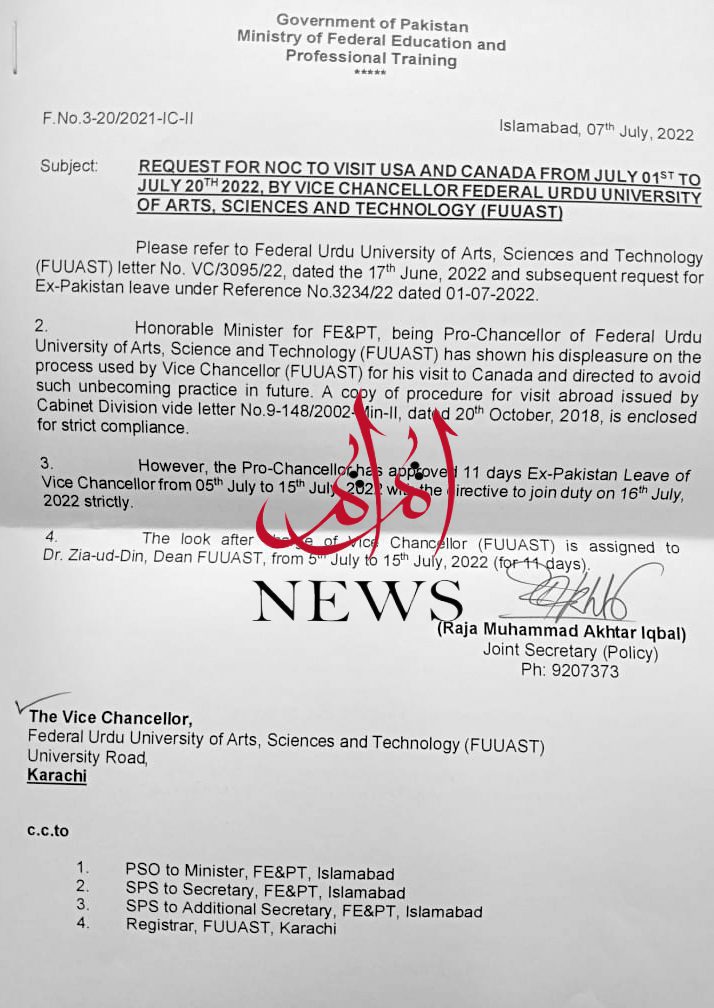 It is to be noted that the permanent VC Professor Dr. Athar Ata has returned to Canada to celebrate Eid with his family just after a month of his recourse at the university.
The Vice chancellor, in a petition addressed to the President of Pakistan through the Federal Ministry of Education, had justified the leave, saying it was being taken in collaboration with the Urdu University as per the wishes of six international universities.
Social media was abuzz with how and when the Urdu University VC was told by 6 international universities regarding their wish to organize programs with only Urdu University.