Fawad Chaudhry and brother feature in new audio leak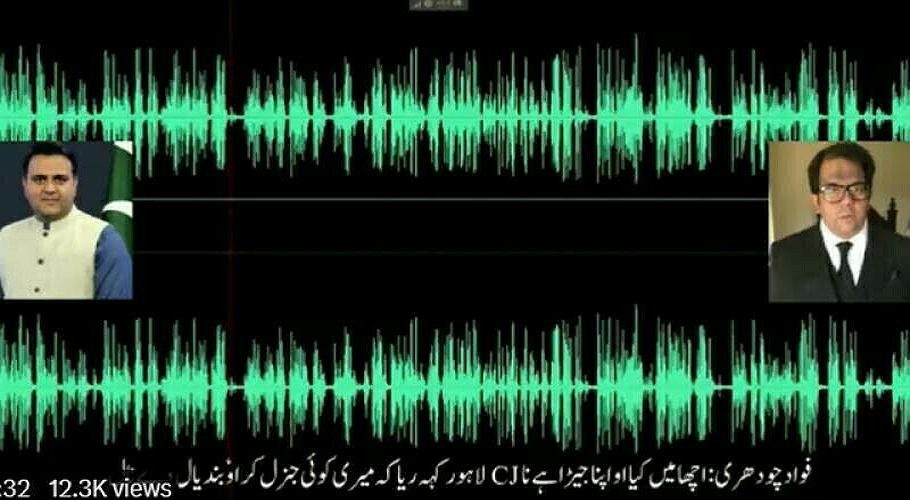 ISLAMABAD: Senior leader of Pakistan Tehreek-e-Insaf (PTI) and his brother advocate Faisal Chaudhry  have been featured in latest audio leak, released to a selected and like-minded group of journalists on Friday. The same was later shared by government ministers after which Ataullah Tarar went on to hold presser on the subject.
Also read: Fawad Chaudhry asks 'inappropriate' bureaucrats to step aside in Punjab
#عمران_داری_معشیت_لے_دوبی pic.twitter.com/Vs4UfCwGo5

— Marriyum Aurangzeb (@Marriyum_A) March 3, 2023
In the alleged conversation between Fawad and Faisal, the names of three judges – Chief Justice Lahore High Court Muhammad Ameer Bhatti, Chief Justice of Pakistan Umar Ata Bandial and Supreme Court judge Justice Mazahir Ali Naqvi were mentioned.
Also read: Pakistan's political, judicial system hostage to powerful gang: Fawad Chaudhry
The audio clip — which appears to be a stitched version of different audio bits extracted from a single conversation — has not been independently verified by anyone or any authority, and the same has been rebuffed by Fawad Chaudhry within minutes after its release.

Also read: Pakistan made a joke, rulers become embarrassment: Fawad Chaudhry
Taking to Twitter, Fawad Chaudhry said "another fake audio has been thrown in the market in my name. This audio has nothing to do with me," said the PTI leader, adding that neither did he meet the judges mentioned in the clip nor did he ask any of them to help each other.
ایک اور جعلی آڈیو میرے نام سے مارکیٹ میں پھینک دی گئ ہے اس آڈیو کا میرے سے کوئ تعلق نہیں نہ ہی چیف جسٹس لاہور سے کبھی ملاقات ہوئ نہ ہی انھیں جسٹس مظاہر کی مدد کا کہا

— Ch Fawad Hussain (@fawadchaudhry) March 3, 2023
"The CJ Lahore is asking for a general [meeting] with Bandial to be arranged," a voice allegedly of Fawad is heard saying which is affirmed by another voice purportedly of Faisal in the phone call.
"Also, meet Mazahir through Mr Dar and tell him that a loaded truck is standing in your name, tell us what we should do with it," the PTI leader reportedly said before adding that "my own personal recommendation is that after doing three or four suits on Tarar, he should be given [Section] 228 there so that they come under some pressure at least".
Also read: No institution enjoys respect in current hybrid system: Fawad Chaudhry
To this, Faisal is allegedly heard assuring his brother that he will look into the matter the next day and "after asking them" he would "take care of it".