Expressing solidarity not enough to solve Kashmir dispute, says former diplomat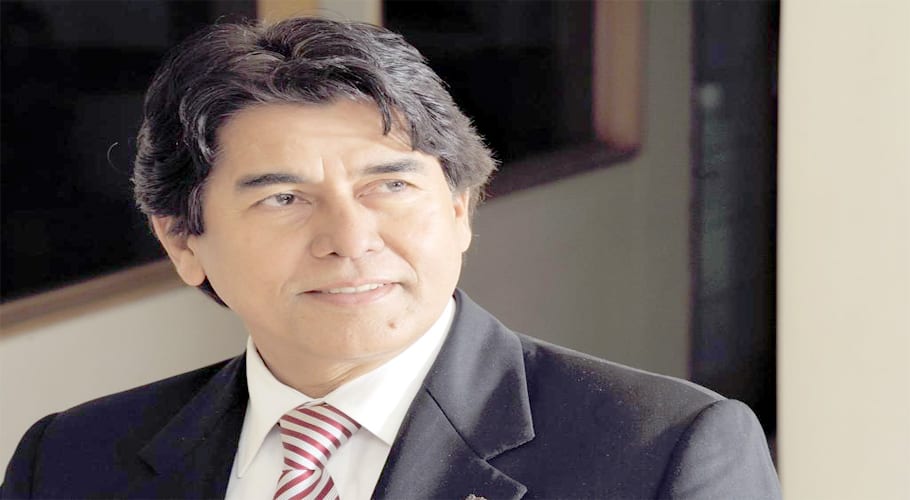 There are a few personalities who have served the nation in different fields. Dr Jamil Ahmed is one of such esteemed figures in our country.
He started his career in the Pakistan Army and due to his dedication, perseverance and hard work, he was selected in the Police Services for his extraordinary skills. He served as various posts in the police force. After serving in diplomatic positions in various countries, he joined the United Nations to showcase his diplomatic skills.
MM News had an exclusive conversation with Dr Jamil Ahmed and spoke a wide range of issues including his career, situation in Pakistan and around the world.
MM News: How was your journey from military to diplomacy?
Dr Jamil Ahmed: It has been a long journey from military to diplomacy; this has been the story of my life. During my college days, I was interested in joining the army. After immense hard work and excitement, I was commissioned in Pakistan Army and served as captain for six years. I was regarded as one of the best captains and given an opportunity to appear in Federal Public Service Examinations and join the civil services.
After appearing in CSS examinations, I was interested in joining the Foreign Services but there was a trend towards District Management Group (DMG) and Police Services. I was selected in the police force which was considered a top level service in those days. In a society where police is not well-respected, it was difficult to serve in cities like Karachi, Hyderabad, Thatta, Gujranwala, Peshawar, and Islamabad.
I have learned that in a society where everyone from a police stable to the IGP is seen with suspicion, if there is good leadership then it will find a name for itself. I opened my doors for the public, took them into confidence and people would respect us.
MM News: From army, police to diplomacy, what impact did it have on our personal life?
Dr Jamil Ahmed: Life is the name of evolution; you need to constantly upgrade yourself with changing times. If you don't choose the right direction, it will push you backwards. Life is filled with regrets, disappointments and failures.
The army is a well-organised institution whereas civic organisations are rife with problems. As a police officer, I often clashed with politician. When the police is politicised, crime will increase and the people suffer the most. I remained steadfast and had to face many problems, but I upheld the rule of law and continued moving forward. I got new opportunities and eventually realised I could serve the nation as a diplomat while being away from it.
MM News: What is the one thing in life you are proud of?
Dr Jamil Ahmed: The Pakistan Army recruits on an open merit system. I had no family military background and was the first in my family to join the army. I am proud to serve the army after I was commissioned. I also served in Saudi Arabia's army and later as a diplomat in Libya and UAE. These are the achievements in life I am most proud of.
MM News: An unforgettable incident in life which you remember?
Dr Jamil Ahmed: It was a cumbersome task to hold a meeting with Libyan President Gadhafi. His staff members would take those desiring to meet him needlessly to several locations and then toward any unidentified camp. Once a former President of Pakistan had trouble in holding a meeting with President Gadhafi. I got in contact with one of his close aides and arranged a meeting. As an ambassador in Libya, I had developed connections within diplomatic circles. During the meeting, we discussed an arms deal with included tanks for the first time. This is incident which I will not forget.
During my time in the police, I use help the families of dacoits and even provide them relief from public resources. Crime rate was high in Hyderabad in those days and the dacoits had killed an ASP after which we conducted a search operation. Surprisingly the dacoits did not open fire. After their arrest, they told me I was on target but they did not shoot me as I helped their families and have never conducted a fake encounter.
MM News: How was your experience working with the United Nations?
Dr Jamil Ahmed: The UN is the world's biggest platform where people from 192 nations are present. Wherever I have served abroad, I worked with people from 50-60 countries but serving in the UN was a unique journey. I learned the art of persuasion and lobbying and how to convince other countries to accept your point of view. I learned all this during my time at the UN.
MM News: Which other countries have you served? Which is your favourite country and why?
Dr Jamil Ahmed: I have served in USA, East Timor, Kenya, Somalia, Yemen, and Muscat (Oman). I liked Yemeni capital Sanaa the most. People there have immense respect for Pakistanis, are friendly, smiling and very trustworthy. Even if you left the door open, your house would not get robbed.
The tribal system if really different and I enjoyed working with the tribesman. The tribal leaders would kidnap people but not for ransom but only to negotiate with the government. Another interesting thing is that the abductee are kept as guests. Once a German couple was kidnapped and then went back to the tribesman as their guests.
MM News: What steps are necessary to make CPEC a success?
Dr Jamil Ahmed: CPEC is a vital part of the Belt and Road Initiative (BRI). It will benefit China immensely as it needs access to the sea to transport goods which usually takes days. It will immensely help China in the import and export of product particularly oil. For Pakistan, it will prove to be a game changer. We need to develop skilled manpower for different sectors as it will attract foreign investment and send a sense of deprivation in the local masses.
MM News: What is the main reason for the US-China dispute?
Dr Jamil Ahmed: The reason for the US-China standoff is the economic development of China. The Chinese economy is diversifying and 125 countries are associated with it. As its economy grows, China's influence is also growing in the region and beyond. In order to safeguard its interests, China is expanding its military power whereas US still has the most powerful army. On the economic front, US has been lagging behind and wants to sabotage the Chinese economy. There are economic reasons for the US-China fallout.
MM News: What diplomatic successes has the incumbent government achieved?
Dr Jamil Ahmed: Our relations were contentious with India, Iran and Afghanistan from all three sides. Pakistan's relations have significantly improved with Iran and Afghanistan. The government has raised its voice on the Kashmir issue due to which India is being criticised around the world. On this end, the government is making serious efforts. Relations with Bangladesh have also started improving while India is itself being isolated in its nefarious designs against Pakistan.
MM News: What will be the global reaction toward reconverting Hagia Sophia as a mosque?
Dr Jamil Ahmed: The decision to convert Hagia Sophia into a mosque is being criticised globally. US Secretary of State Mike Pompeo, Joe Biden and many countries have raised their concerns. There were certain conditions before converting the status of a UNESCO heritage site which were not fulfilled. There is immense uncertainty but Christians have not objected to convert a cathedral into a mosque. There could be pressure but it is unlikely to make any difference.
MM News: What steps should the government take for the current situation in Kashmir?
Dr Jamil Ahmed: The government needs to alert all embassies and missions around the world regarding the situation in Kashmir. The situation has changed after Imran Khan's speech at the UN General Assembly. The prime minister is serious about the Kashmir dispute but the embassies are not taking similar steps.
The government has announced to observe 'Youm-e-Istehsal' on 5th August. This is a welcome step but merely expressing solidarity with Kashmir is not enough. The government needs to take practical steps to address this long-standing dispute.