EFU Life, JS Bank join hands to strengthen partnership for health protection solutions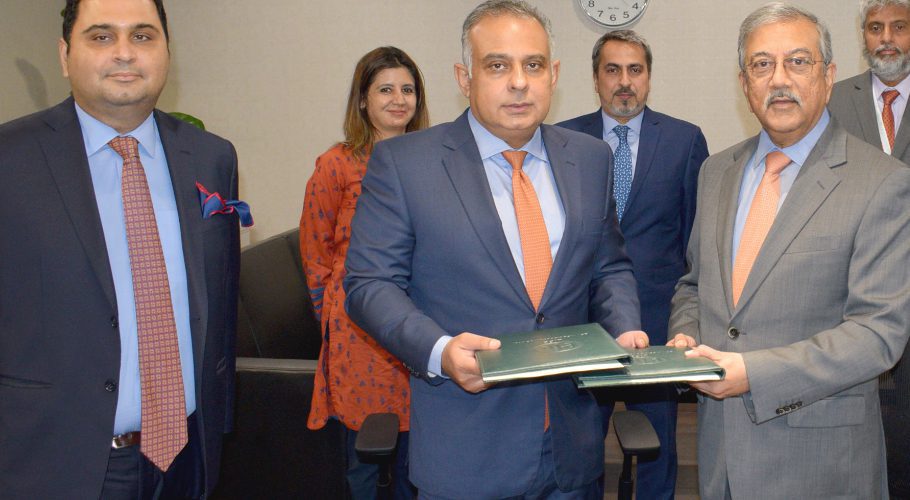 KARACHI: EFU Life Assurance and JS Bank have joined hands and reached new heights by launching innovative offerings to protect individuals and their families from any and all financial risks when it comes to their lives and health.
An agreement between the two entities was signed at the EFU Life Head Office between President & CEO JS Bank – Basir Shamsie and MD & CEO EFU Life – Taher G. Sachak, in the presence of senior executives from both teams.
The event saw the launch of the EFU Cover Shield Plan which covers debt payments in case of demise of the insured while EFU Employee Protector Plan provides employed individuals with a "Salary Continuation" feature.
Speaking at the occasion Basir Shamsie stated, "Healthcare has long been our pivotal focus area. We have always strived to give back to the community we serve through innovative products that safeguard their safety and well-being."
"We are pleased that our long-standing association with EFU Life has enabled us to provide top-notch services and offerings to our customers and their loved ones," Basir added.
Earlier, EFU Life Assurance Ltd, the leading insurance provider in the country had joined hands with Afzaal Memorial Thalassemia Foundation (AMTF) for its PRIMUS Loyalty Program.
The partnership will enable EFU Life's high-priority client base to avail various discounts and attractive offers on labs, radiology and X-ray services.
The agreement was signed by Shahid Abbas, Executive Director EFU Life and Dr. Asim Qidwai, Founder AMTF. They were joined by Rehan Yaseen Chief Finance Secretary AMTF, Ateeq ur Rahman, Executive Director AMTF, Aman Hussain, Head of Marketing, EFU Life and Faizan Shuja Head of Alliances, EFU Life.
Speaking on the occasion Shahid Abbas said, "We are invested in adding value for our clients not only through our comprehensive financial planning solutions and world-class services by opening to them a world of exclusivity and convenience."
"By partnering with AMTF, our PRIMUS clients will now have access to Pakistan's leading state of the art medical facility for their laboratory and diagnostic services," he added.
Dr. Asim Qidwai said today AMTF further strengthened its collaboration with EFU Life.  "We have been partners in Thalassemia eradication and are now proud to extend our medical services to EFU Life PRIMUS Clients," he added.
EFU Life PRIMUS Loyalty Program gives an unparalleled advantage to clients by offering exclusive discounts at over a hundred leading brands in the country, categories including Food, Lifestyle, Wellness, Leisure, and Insurance. These offers are a few taps away on EFU Life PlanIT mobile app, available on both Android and IOS platforms.