ECC approves Rs20 billion to procure 10m doses of Covid-19 vaccine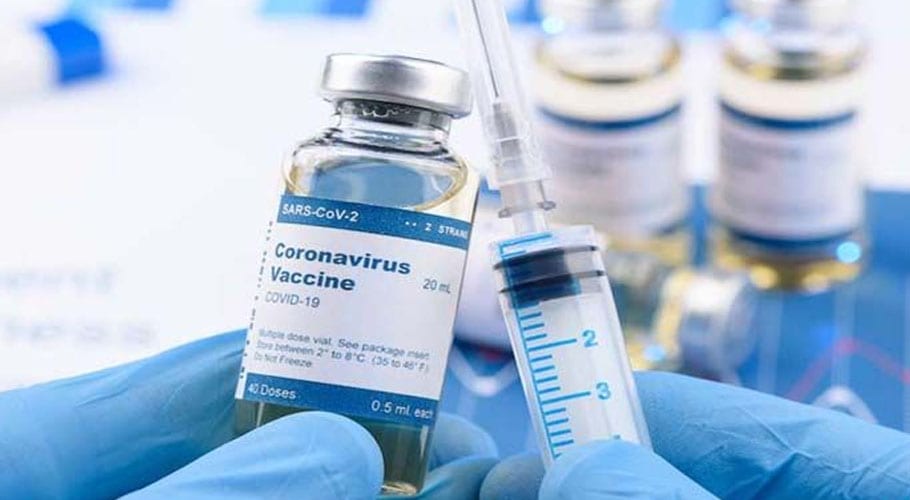 ISLAMABAD: The Economic Coordination Committee (ECC) has approved a technical supplementary grant of about Rs. 20 billion to procure 10 million doses of the Covid-19 vaccine next month.
According to the finance ministry, the ECC meeting chaired by Finance Minister Shaukat Tarin was specially called to approve the supplementary grant of USD 130 million (Rs. 20 billion approx.) to ensure timely procurement of Covid-19 vaccines.
In a statement, the Finance Ministry said that the demand for additional funds will be reviewed during the next fiscal year and funds will be released accordingly.
Reportedly, Pakistan is likely to receive over five million doses of various Covid vaccines in June. During the first 10 days of June, over 3.5 million doses of Sinovac, Sinopharm, and CanSino vaccines are expected to arrive in the country.
Addressing a press conference after a meeting of the National Coordination Committee (NCC) on Monday, Asad Umar said the positivity rate, which had reached 10-11%, had come down to 4.5% last week and yesterday it was just over 4%, adding that the positivity rate in Sindh is still a bit high and the situation needed to be handled carefully.
Due to the timely decisions of the government, Pakistan did not witness the situation faced by some other countries in the region however, "nation still need to be cautious because pandemic is not over yet."
 The NCOC chief said, "The only way to get rid of the Covid epidemic is by administrating vaccine to as many people as possible and as quickly as possible."
Seven million vaccines had been administered in Pakistan so far with 5.2m to 5.3m people vaccinated and the eventual goal by the year's end was to reach 70m people, Umar added.
Citing the data he said more than seven million vaccine doses have been administered and some 5.2 to 5.3 million people are included in this who have been vaccinated.
He said the target by the year's end was to inoculate 70m people in the country with a particular emphasis on achieving vaccination rates at an adequately high level in two months June and July so that stern restrictions would not be required before Eidul Azha.
Pakistan sees record vaccinations
A day ago, Pakistan recorded a record in daily vaccinated as over 383,000 people were inoculated in a day for the first time in Pakistan.
This was announced by Federal Minister for Planning, Development and Special Initiatives Asad Umar, stating that over 7 million people have been vaccinated against the coronavirus so far.
The federal minister further said that the number of registrants is also steadily increasing, disclosing that 11.663 million people have registered so far.
Earlier, the NCOC had opened up walk-in coronavirus vaccinations for people aged 30 and above and teachers over 18 years old. The government also opened walk-in vaccination for teachers above 18 years of age is open.
A digital portal has been launched by the federal government for the registration through which a code is assigned to the person who can then go to a designated vaccination centre and get a jab.
Pakistan reported the lowest coronavirus ratio
Pakistan reported the lowest coronavirus ratio of 4.05% in almost three months on Monday amid a constant decline in infections since the past week.
According to the National Command and Operation Centre (NCOC), Pakistan reported 2,117 cases and 43 deaths in the previous 24-hour period. The national tally of coronavirus cases has reached 921,053 while the death toll stands at 20,779.
The number of active cases has reached 59,033 while there are 3,497 people in intensive care although there was no critical case reported in the past day. There were 52,223 tests conducted in the past day, while the positivity ratio has dropped to 4.05%. Overall 841,241 people have recovered from the virus, including 1,919 in the past day.