COVID-19: Brazil records highest single day jump in death toll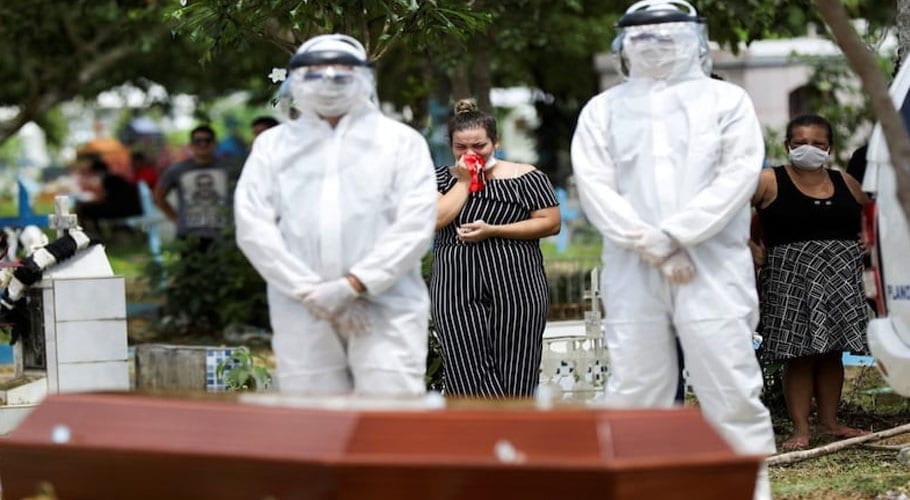 BRASILIA: Brazil has recorded its highest number of coronavirus deaths as the pandemic that has swept across the world begins to hit Latin America with its full force.
With infections rapidly approaching five million, deaths topping 320,000 and the global economy devastated, there are fears that the worst is yet to come for the poorer parts of the world as they desperately try to contain the spread of the virus.
There was an alarming surge earlier this week in Brazil as daily COVID-19 deaths crossed 1,000 for the first time, but far-right President Jair Bolsonaro remains bitterly opposed to lockdowns, having described them as unnecessary over a "little flu".
"Our country is going from bad to worse, it is getting worse," said retiree Gilberto Ferreira in Rio de Janeiro. "We have an inefficient government, and the people also do not obey the rules of the pandemic."
Infections in Brazil already the third-highest globally were climbing by the thousands, with the outbreak in the world's sixth-largest country expected to accelerate until early June.
The coronavirus surge in Latin America has forced some areas to suspend their plans to loosen restrictions, with Argentina's second city Cordoba rolling back plans to ease a lockdown because of a spike in infections.
The country has 271,628 confirmed cases but the true number is likely to be higher because of insufficient testing.
Read more: Brazilian footballer Neymar anxious over no sports