Confirmed cases of coronavirus in Pakistan surge past 38,700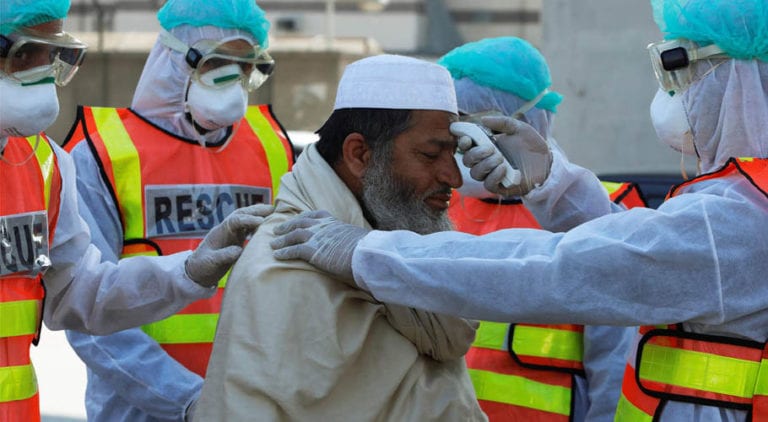 KARACHI: The number of confirmed coronavirus cases has surged to 38,799 in Pakistan, while the death toll stands at 834.
According to the National Command and Control Center (NCOC), more than 1,581 cases of coronavirus were reported while 31 people succumbed to the disease in the last 24 hours. As many as 10,880 patients have recovered from the disease, while 153 are said to be critical as the country is still witnessing a consistent rise in the COVID-19 cases.
As per details, 21 percent of the cases have foreign travel history while 79 percent of the cases are reported to be locally transmitted.
The number of patients swelled to 14,201 in Punjab. A partial lockdown has been imposed across the province to stem the spread of the infection.
Sindh has started easing lockdown restriction as it has allowed some industries to resume operations. The cases of infection have surged to 14,916 in the province, the most affected region in Pakistan.
There are 2,457 confirmed cases while 176 patients have recuperated from the infection so far in Balochistan.
The confirmed cases have surged to 5,678 in Khyber Pakhtunkhwa.  There are 518 coronavirus cases in Gilgit-Baltistan. As many as 222 people have recovered from the infection.
There are 108 cases in Azad Jammu and Kashmir whereas, in Islamabad, there are 921 cases in the capital city while around 36 patients have recovered so far.
'Tally of the death toll'
Sindh: 225
Punjab: 245
Khyber Pakhtunkhwa: 291
Balochistan: 31
Islamabad: 07
Gilgit-Baltistan: 04
AJK: 01
Deaths: 834