Clerks set to stage sit-in outside Parliament House today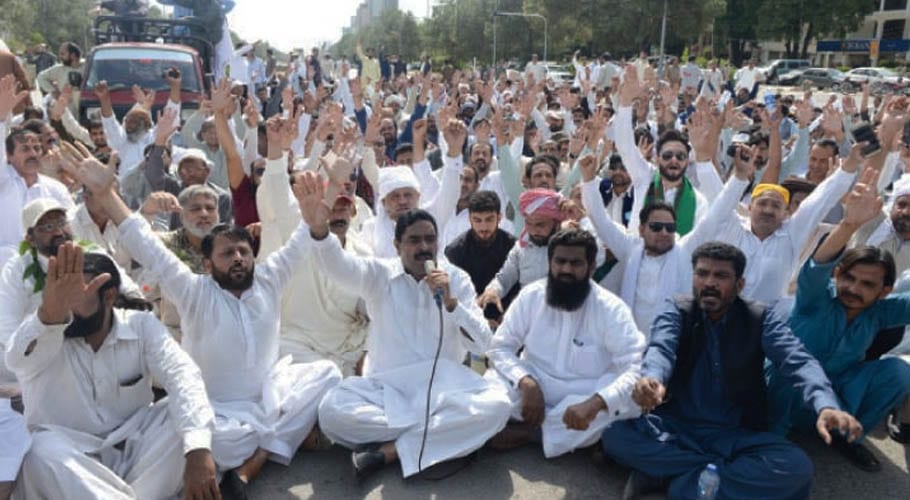 ISLAMABAD: The All Pakistan Clerks Association (APCA) will stage a sit-in in front of the Parliament House on Wednesday demanding an increase in their salaries and allowances.
The APCA has also announced a countrywide pen-down strike for four days which could continue till acceptance of their demands. Thousands of government employees from various parts of the country are expected to arrive into the heavily guarded Red Zone to stage a sit-in demanding an increase in their salaries, pensions and allowances.
The district administration has sealed off the Red Zone with barbed wire and containers to deny entry to the protesters. According to the schedule, the protestors will march from Polyclinic to Parliament House where they will stage a sit-in.
APCA President Haji Muhammad Irshad Chaudhry said the government employees from all the four provinces were reaching Islamabad to stage a sit-in which will continue till the fulfillment of their demands.
He said the government was trying to arrest clerks but they will reach Islamabad at any cost. He said the government should take their demand seriously and warned that if it tried to use force against the protestors, they will block streets across the country.
APCA Balochistan caravan led by Naseer Ahmed Khan Kakar, APCA Sindh led by Asadullah Khan Durrani, APCA KP led by Muhammad Sudeer Khan, APCA Azad Kashmir led by Raja Muhammad Rasheed, and APCA Islamabad led by Tariq Sialvi are on their way to the federal capital to join the protestors.
Last week, over 10,000 government employees gathered at Jinnah Avenue to launch a protest callin on the government to meet their demands, including a 100 percent increase in medical allowance, increase in salaries as per the price hike along with an explanation about the increment and pension policy.
The leaders of different political parties visited them to express solidarity as they staged a sit-in at Constitution Avenue. The APCA decided to postpone their protest after receiving assurances from the government's team headed by National Assembly Deputy Speaker Qasim Suri.
APCA representatives informed the government team about their reservations regarding proposals to discontinue pension, gratuity and withdraw annual increment besides reducing retirement age to 55 years.
The deputy speaker told them that there was no proposal to reduce pension, gratuity and annual increment and reducing the retirement age of government employees. It was decided that a committee would be formed regarding other demands of the employees.