Chinese Ambassador rejects US claims against CPEC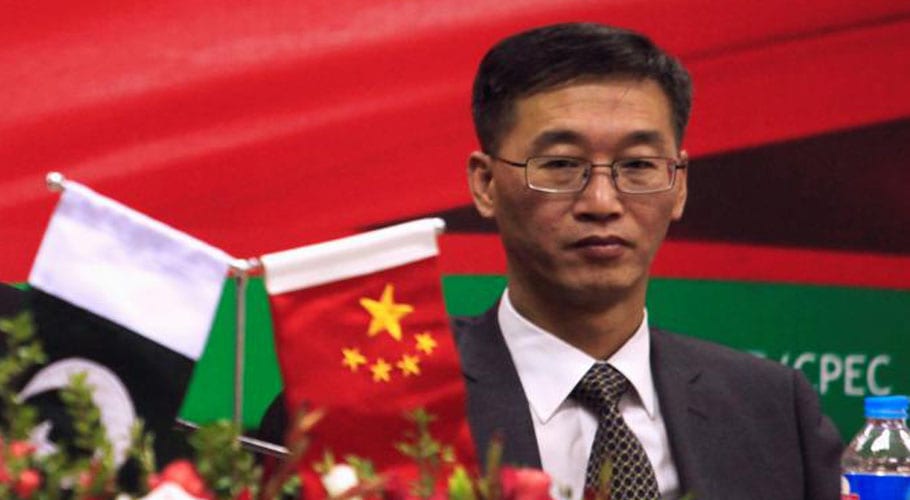 ISLAMABAD: Chinese Ambassador Yao Jing on Saturday rejected the United States' statement regarding the China Pakistan Economic Corridor (CPEC).
Speaking at the fifth CPEC media forum, organised jointly by the Chinese Embassy in Islamabad and Pakistan-China Institute, the envoy said that CPEC projects were free of corruption.
Read more: China to invest $10 billion in oil, gas sector: Bakhtiar
Yao responded to a statement recently given by senior US official Ambassador Alice Wells in which she claimed that CPEC projects were heaping debt burden on Pakistan and lacked transparency.
In a statement Alice Wells said, "We hope Pakistanis will ask Beijing tough questions on debt, accountability, fairness, and transparency."
She added, "Ask the Chinese government why it is pursuing a development model in Pakistan, that significantly deviates from what brought China its own economic success."
Also read: Gen (R) Asim Bajwa appointed as head of CPEC Authority
Ambassador Yao reacted in this regard that he was shocked and surprised at Wells' speech over CPEC.
Yao said, "Pakistan-China relations are based on win-win cooperation and are mutually beneficial."
The Chinese ambassador questioned Wells that when in 2013, the Chinese companies were establishing power plants in Pakistan, where was the US?
"Why it did not invest in Pakistan's power sector despite knowing that Pakistan was in dire need of electricity?" he asked.
Also read:Kyrgyzstan can be a player in CPEC: NA Speaker Asad Qaisar
He said that China has always assisted Pakistan in need without any political or government differences.
He added that if Pakistan was in need, China would never ask it to repay its loans in time.
The envoy further said that CPEC's motive is to improve the lives of people living in Pakistan and China by building an economic corridor promoting bilateral connectivity, construction, explore potential bilateral investment, economic and trade, logistics and people-to-people contact for regional connectivity.
Also read: Countering CPEC bottlenecks: PM to visit China next week