Boxer Amir Khan visits LoC for solidarity with IOK
ISLAMABAD: British Pakistani boxer Amir Khan on Tuesday visited the Line of Control (LoC) as part of a humanitarian programme to express solidarity with Kashmiris.
The boxer voiced concerns against the violence being carried out by Indian forces in Kashmir. The Kashmir people  have been living under severe circumstances since the Indian government removed

Article 370

from their constitution which gave them the special status.
Amir Khan said that he could not just sit silently in England and see the people of Kashmir suffer at the hands of Indian forces.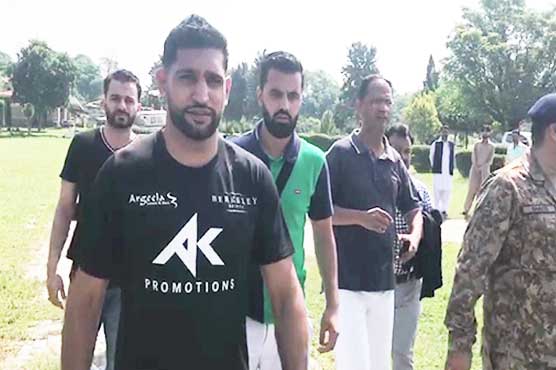 The boxer said, "People are being tortured and children are being killed, I was watching all of this on my television in Britain, but I could not stay silent.
He further said that he will raise his voice against the brutalities of Indian occupation forces in Kashmir.
Earlier this week, Amir Khan had announced that he would visit the LOC to raise his voice against the brutal atrocities of the Indian government in occupied Kashmir.
In a tweet, the 32-year-old boxer revealed that he was given the opportunity to visit the LoC by Director General Inter-Services Public Relations (ISPR) to call for peace. 
Next week I am visiting Pakistan, Line of Control(LOC) on a humanitarian visit to raise my voice for peace, as a lot of innocent people are suffering. Thank you @officialdgispr for the opportunity #UNcharter #kashmir #peace

— Amir Khan (@amirkingkhan) August 24, 2019
In another tweet, he had described the situation in occupied Kashmir as terrible and wanted to visit the LoC to highlight India's callous measures and human rights abuses.
I'm visiting Pakistan, Line of Control( LOC), to make my voice heard, bring greater awareness to the terrible situation in Kashmir and call for peace @UN charter Thank you @officialdgispr for the opportunity

— Amir Khan (@amirkingkhan) August 24, 2019