Around 8,000 healthcare workers affected by COVID-19 in Pakistan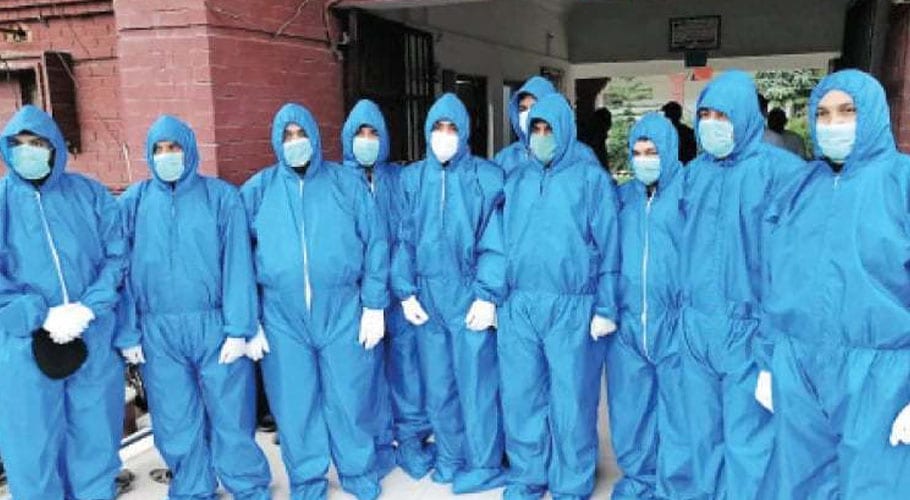 ISLAMABAD: New research has revealed that the novel coronavirus has affected up to 8,000 healthcare professionals in Pakistan so far.
According to the ministry of national health services, 19, 87 healthcare workers have died, while there are a total of 8,272 infections in the profession. Individually, 7,902 medics have recovered since the outbreak in the country on 26th February.
The sickened healthcare workers, majority, therefore 61% are doctors. Additionally, 927 nurses have tested positive, as per the data.
The majority of the infected healthcare professionals have been reported from Khyber Pakhtunkhwa and the number of infections was 2,494, followed by Sindh, 2,255, Punjab, 1,815, Islamabad, 647, Balochistan, 536, Azad Jammu and Kashmir, 323 and lastly Gilgit-Baltistan, 202.
Read more: Worldwide coronavirus cases cross 45 million
While,  majority of the death toll has been recorded in Sindh, where 34 healthcare workers have died to date, followed by Khyber Pakhtunkhwa, 21.  Coronavirus has so far affected 324,744 people in Pakistan and killed 6,692 people across the country. 
The coronavirus has killed 2,319 people in Punjab and 2,587 in Sindh. The death toll in Khyber Pakhtunkhwa has risen to 1,265, in Islamabad 199, in Balochistan 148, in Gilgit-Baltistan 90, and in Azad Kashmir 84.
The number of coronavirus cases in Islamabad has reached 18,309. Around 101,936 cases have been reported in Punjab, 142,348 in Sindh, 38,779 in Khyber Pakhtunkhwa, 15,717 in Balochistan, 4,091 in Gilgit-Baltistan, and 3,564 in Azad Kashmir.