Afghan govt, Taliban arrive in Doha for peace talks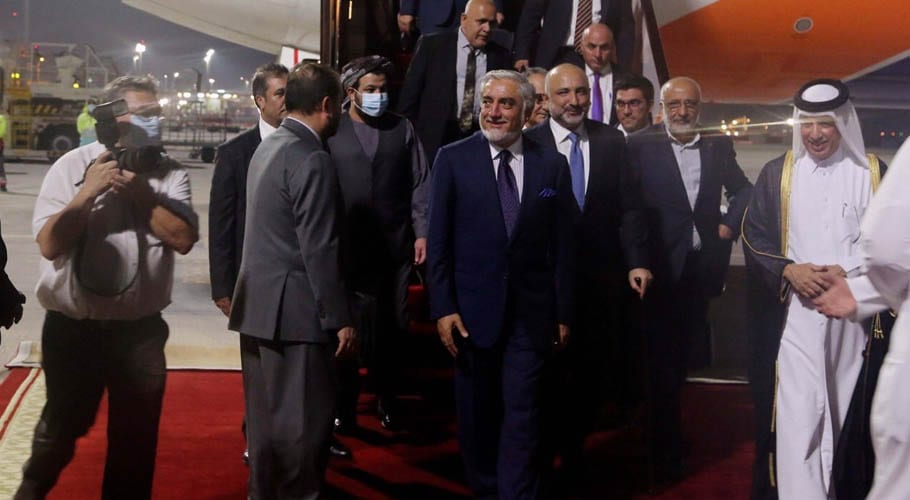 DOHA: The long-awaited peace talks between the Afghanistan government and the Taliban are set to begin in Qatar on Saturday.
Afghan government's 21-member negotiating team is led by Masoom Stanekzai, a former intelligence chief. The Taliban are led by Mawlavi Abdul Hakim, the armed group's chief justice and a close aide of the group's chief Haibatullah Akhunzada.
Chairperson of Afghanistan's High Council for National Reconciliation Abdullah Abdullah, US Secretary of State Mike Pompeo and Taliban deputy leader Mullah Baradar are also attending.
The intra-Afghan talks were expected to take place in March but have been delayed over a prisoner exchange agreement as part of the United States-Taliban deal signed in February. The Taliban had agreed to release 1,000 Afghan troops, while the government would release 5,000 Taliban prisoners.
Pompeo also arrived in Doha on Friday and called the talks a "historic" opportunity to end the longest war.
US Special Representative for Afghanistan Zalmay Khalilzad said although the talks raise hopes of the war ending in the country, many challenges remain.
"This is a new phase in diplomacy for peace in Afghanistan," Khalilzad said, adding that the negotiations are an important achievement but there are significant challenges on the way to reaching an agreement.
It took almost six months to get the Taliban and the government to the negotiating table, and analysts said the challenging part is to get both sides to reach an agreement.
The Afghan negotiating team includes five female representatives who will defend women's rights during the talks. The Afghan government is supporting the current democratic political system, while the Taliban wants to reimpose its version of Islamic law as the system of governance.
The Afghan government's agenda for the talks is to secure a permanent ceasefire. According to the United Nations, in the first six months of 2020, almost 1,300 civilians including children have been killed in Afghanistan.