Abdul Hameed – The playwright behind Ainak Wala Jin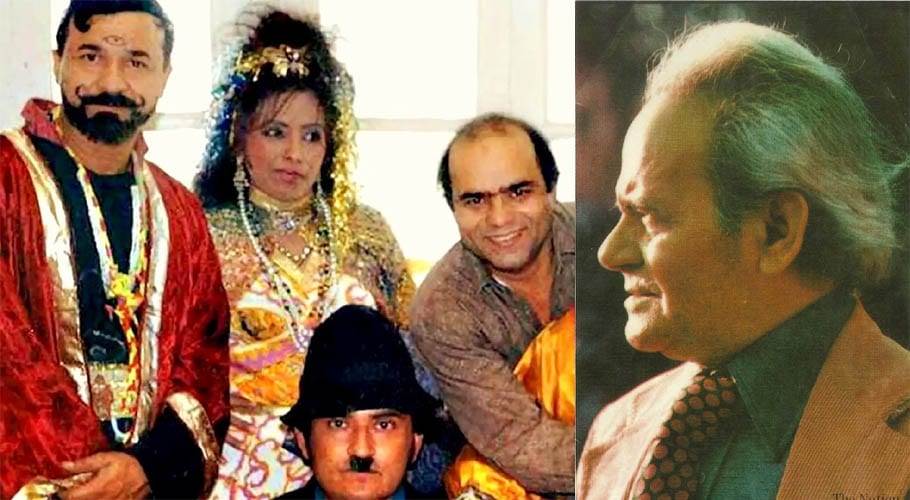 Ainak Wala Jin was the most iconic and classic children's television series produced and broadcast by PTV from Lahore in 1993.
The drama was immensely popular and was broadcast twice on television due to public demand. It was widely popular among children and even adults for its humour and fictional storyline.
The serial was directed by Hafeez Tahir, a versatile director of PTV. It was written by Abdul Hameed, who wrote in numerous writings for children but Ainak Wala Jin surpassed his other works in popularity. Today marks his ninth death anniversary.
Theme and Concept
The theme of Ainak Wala Jin fantasy is a combination of fantasy real life and science fiction. A genie is sent by the kings of genies from the mountains down to earth for the treatment of his eyesight problems. When he lands, he meets a daring young boy who loves fantasies.
The boy takes him to the doctor who prescribes power glasses. Then the boy, along with his father, takes the genie home. The genie is in the shape of a tall handsome man. He starts living with humans and the interesting interaction starts.
He meets magicians, witches, other genies, space people and real-life characters. These interactions give birth to a very interesting storyline that entailed comedy, magic, morals and learning for children.
This was the creation of Abdul Hameed that captivates audiences even today. Many characters such as Hamoon Jadugar, Zakoota Jin and Bill Batori, became household names and some of the dialogues were transformed into political connotations.

The longest drama
When Ainak Wala Jin started, even the playwright was unsure how long it will last. A drama serial normally has 13-20 episodes presented weekly. but Ainak Wala Jin proved to be the longest drama in the history of PTV.
Ainak Wala Jin started in February 1993 covered a total of 285 episodes that lasted for 11 years till 2004. This is the record in the history of PTV which no drama has surpassed till date. Famous characters in the play are Bill Batori, Hamoon Jadugar, Samari Jadugar, Toofani Nagan, Moattar, Zakoota Jin and the lead titular character Nastoor (Ainak Wala Jin)
Biography of Abdul Hameed
Abdul Hameed was an Urdu fiction writer and playwright. He was born in 1928 in Amritsar where he completed his high school education and migrated to Lahore after partition in 1947. He finished college education as a private candidate and joined Radio Pakistan, Lahore as an assistant script editor. After working for several years, he became a fiction book writer.
Hameed's first collection of short stories 'Manzil Manzil' received popular acclaim and he became recognized romantic short story writer. Apart from writing short stories and novels, he wrote columns for national newspapers as well as plays for radio and television.
Hameed has written more than 200 novels and 100 books on fiction and children's literature. During his youth, he was influenced by the Progressive Writers Movement and the writings of Krishan Chander.

Urdu Shair Ki Dastan, Urdu Nasr Ki Dastan, Mirza Ghalib Lahore Mein and Dastan-o-Ashfaq Ahmad, based on the famous writer, are his most famous books. Amritsar Ki Yadeen (Memories of Amritsar) can be considered his biography in which he narrated the recollection of his hometown with humour.
His drama Ainak Wala Jin was popular with children in the 1990s. Moreover, his fantasy series of 100 novels for children known as the Ambar Naag Maria (series of books) increased his popularity.
He was awarded Pride of Performance by the Government of Pakistan in 1997. He the author of a series named Mout Ke Taaqub Mia (Pursuing Death) which has three hundred episodes. Abdul Hameed died of cardiac disease, diabetes and kidney problems on 29th April 2011 at the age of 83.

Popularity
This play has been immensely popular and memorable today even though many of the cast members lived in obscurity and financial hardship after the serial ended.
The team of the play had been invited by many educational institutions and dignitaries like former Governor Punjab Khalid Maqbool requested a live performance for them. The play has also been presented on stage at Alhamra Arts Council in Lahore
The team was also invited by cricketer turned politician Imran Khan for fundraising of Shaukat Khanum Memorial Cancer Hospital & Research Centre. The entire play team performed before Princess Diana during her visit to Pakistan.