40 PTI workers including Usman Dar arrested in Sialkot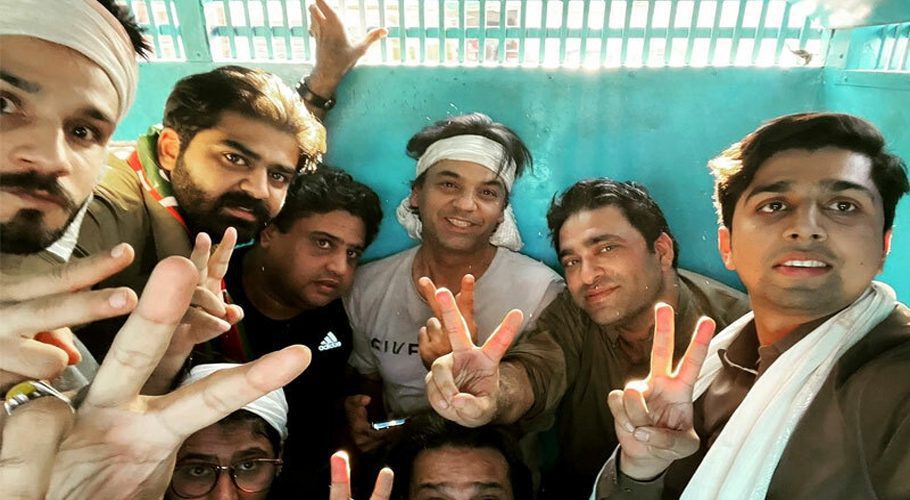 SIALKOT: Pakistan Tehreek-e-Insaf (PTI) leader Usman Dar, who resisted by removing equipment from the venue, took action against the PTI's preparations for an unauthorized rally at CTI Ground in Sialkot, Punjab, including 40 PTI workers have been arrested.
According to details, a heavy contingent of police reached the venue and cordoned off the ground in Sialkot today to stop preparations for the Pakistan Tehreek-e-Insaf (PTI) meeting without permission.
Police began to overthrow the ground with heavy machinery at the Pakistan Tehreek-e-Insaf's gathering, but PTI workers resisted when the goods were removed. On this occasion, PTI leader Usman Dar along with his workers lay down in front of the machinery. He said that this machinery would pass over us.
Police fired tear gas to disperse the workers. Later, police arrested PTI leader Usman Dar and Omar Dar. About 40 PTI workers including Hafiz Hamid Raza, Brigadier Aslam Ghumman, Asjad Malhi, Syed Bilal, Barrister Jamshed Ghias, and Chaudhry Shams were detained.
On the other hand, the district administration said that permission was not sought from the owners of CTI ground for the meeting. No one can be allowed to hold the meeting without the consent of the owners.
Speaking in this regard, DPO Hassan Iqbal said that the Christian community had said that the political party was holding a meeting at our place, they could not allow a meeting in front of the place of worship, and they were ready to provide an alternative place.
Furthermore, Usman Dar released his video statement from the police van after his arrest. He said that we were arrested from Sialkot Ground today. We will capture our passion and passion for Imran Khan.
AJJ SE HAQIQI AZADI KA AGHAZ HOGIYA! ✌️✌️✌️ pic.twitter.com/x9ler1IMlQ

— Usman Dar (@UdarOfficial) May 14, 2022
Usman Dar said, "I tell the youth of Sialkot to get out, great people of Sialkot get out, Imran Khan will definitely come to Sialkot today, these people put us in jails, peaceful meeting is our legal and constitutional right."
Read more: Lahore Qalandars mulls tri-series involving teams from England, South Africa
He said that we will go out again and will launch a real freedom movement and hold a rally. This storm and madness are not going to stop now, we stand firm with Imran Khan. Dar said that a day ago he said take everything from here, we are not afraid, we are steadfast, the real freedom movement will continue.
On the other hand, the video message released by Dr. Majeed Abel of Prestrian Church of Pakistan said that CTI Boys High School is owned by Prestrian Church of the USA which has been entrusted to the Prestrian Education Board for promotion of education.