Yasir Hussain shares 'family photo' with Wajahat family
Actor, playwright, and host Yasir Hussain has shared an adorable snap of the Wajahat family who visited his son Kabir Hussain.
The actor-turned-writer turned to Instagram and shared a lovely snap of Karachi Se Lahore Director Wajahat Rauf who along with his family visited Hussain and Iqra and their newborn baby Kabir.
View this post on Instagram
The actor while posting a picture called it a 'family photo' with a caption, "Family photo ❤️ Kabir Hussain k taya tai aur unka beta ashraf tai I mean @aashirwajahat 😂 @wajahatraufofficial @shaziawajahat pc @hassanhayatkhan or @umermukhtar . dono chachon ne picture nahi banwai". Asshir Wajahat also commented below the post, "Haha lots of love and prayers for Little kabir".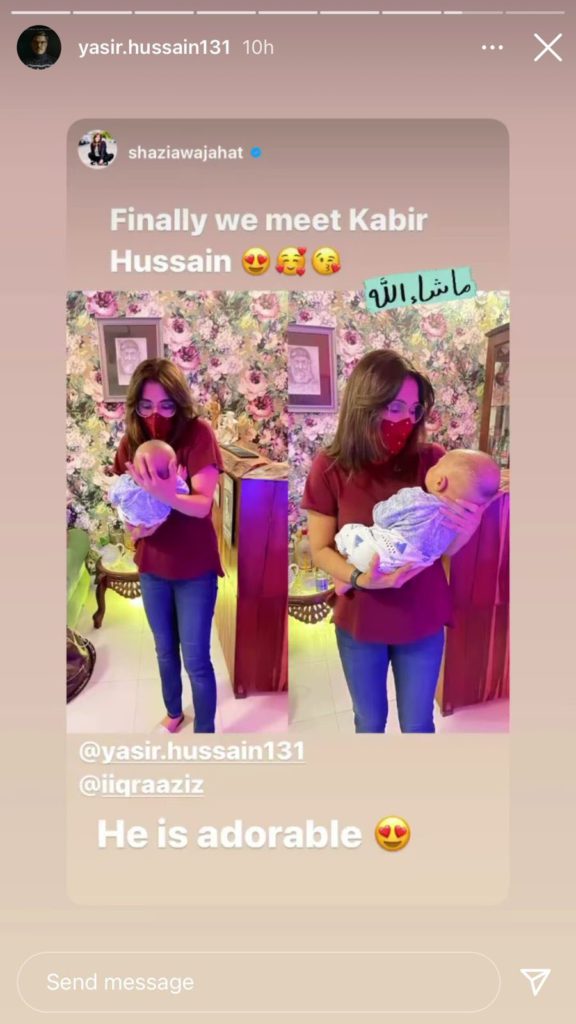 The actor, who has welcomed his first child with wife Iqra Aziz, often keeps sharing photos of his family shenanigans on Instagram. In this week's photos from Yasir's life as a parent, the Lahore Se Aagey actor is confessing how he sleeps just like his son.
Read more: Yasir Hussain unveils first look as serial killer Javed Iqbal
"Mai bilkul Kabir Hussain ki tarha sota hun (I sleep just like Kabir Hussain)," captions Yasir alongside a photo of him soundless asleep with baby Kabir resting on mother Iqra's arm.
View this post on Instagram
The husband and wife, who have not yet shared a public photo of their son, hid Kabir's face with a baby face emoticon. The couple tied the knot in 2019. The couple welcomed their first child in July 2021.