Yasir Hussain gets an earful from Vasay Chaudhry over his recent remarks
Actor, playwright, and host Yasir Hussain, who will soon appear as a Pakistani serial killer in a movie, has recently faced backlash from Vasay Chaudhry for his statement.
It all started when one of the social media users asked him what would be the message of the movie Javed Iqbal, in which Yasir Hussain is playing the lead role with the same name. To which Hussian wrote, "What's the purpose of it? I want to know what kind of message does Jawani Phir Nahi Ani, Punjab Nahi Jaungi or such films really give out?".
Yasir Hussain's statement which was shared on different social media platforms was apparently not well received by Vasay Chaudhry. Being the writer of the movie "Jawani Phir Nahi Ani", Chaudhry quoted Yasir Hussain's statement and shared his opinion that such movies (films that Yasir mentioned) entertained the audience.
Read more: Yasir Hussain shares 'family photo' with Wajahat family
"Besides providing quality Family entertainment, these films played a vital role in the growth and resurfacing of Pakistani Box Office so that films like "Lahore Se Agay" could also run in cinemas #dontgetcarriedawaybysocialmedia".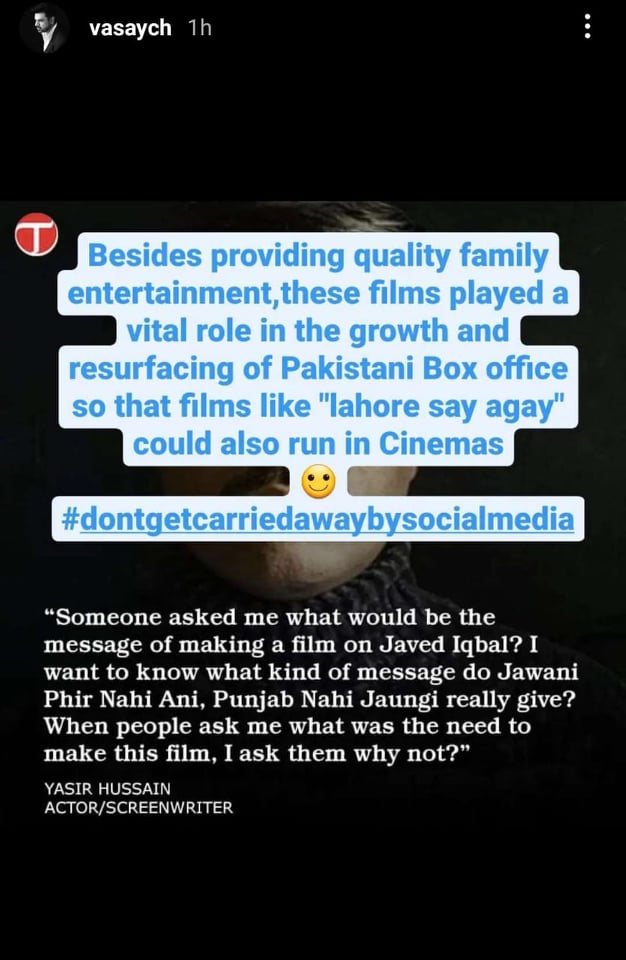 Yasir Hussain will essay the role of  Javed Iqbal, the infamous serial killer who admitted to killing and dismembering over 100 young boys in 1999. The movie is being directed by Abu Aleeha who has written the screenplay of the film as well. Besides Hussain, actress Ayesha Omar will also star in the film. The movie is due to be released in cinemas but the release date has yet to be confirmed.