Women volunteers to campaign against drugs, meets Governor Sindh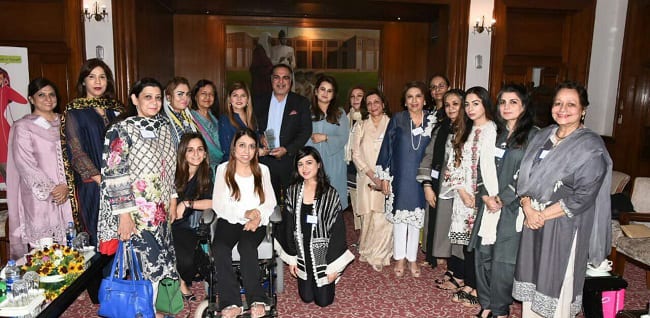 KARACHI: A delegation of volunteer women intending to take

part in campaigning against drug abuse in educational

institutions met Governor Sindh and his wife at

the Governor House.
Under the initiative taken by Governor Sindh Imran Ismail and his wife,
these volunteers would launch an awareness drive against drug abuse in
schools.
Principal Secretary to Governor Sindh Khaqan Murtaza, CPLC Chief Zubair
Habib, Medicine Specialist Dr. Mahjabeen Islam and others were also
present during the meeting which discusses measures to tackle the
issue and cure of drug addicts in detail.
Addressing the meeting, the Governor said that drugs are destroying the
youth of the country, getting the society rid of this
menace and safeguarding our youth is the urgent need of the time.
Imran Ismail said that the elements involved in this disgusting business
should be exposed and punished. 
He went on to say that the main target of the drug peddlers
are the students of schools, colleges, and universities, so the
surroundings of educational institutions need a strict watch.
The Governor added
that there are more than 6,000 private schools in Karachi. It i
s imperative that we educate school owners about this campaign in the
first phase. In the second phase, training for children in Rangers
Rehabilitation Centers will be made in addition to provide training to
make them a viable citizen of society.
He also appealed to the media to play a role in raising
awareness among masses against drug abuse.
Dr. Mahjabin on the occasion said that the drug rehabilitation centers
in the city under various NGOs should also be included in the program.
She added that besides medications to drug addicts, it was important to
communicate with them individually and collectively.
CPLC Chief informed the meeting that an anti-narcotics cell had been set up
 at CPLC.