Why were steps not taken for security of Chinese teachers at KU despite threats?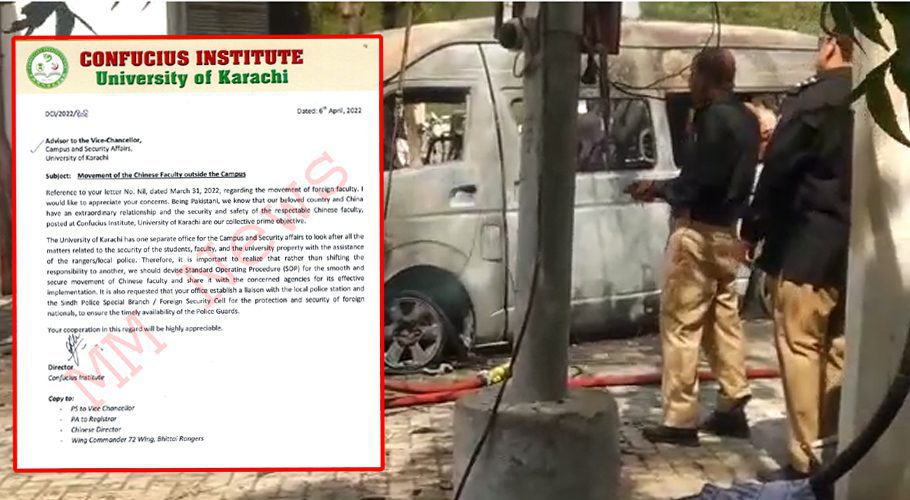 KARACHI: The blast at the University of Karachi (UoK) exposed the negligence and carelessness in the security arrangements for the Chinese teachers.
A month earlier, the incumbent acting KU administration had appointed people of its choice to all the key positions. The administration also removed the security adviser and appointed a new official on favoritism. The incumbent officer in order to save himself put the matter on the director of the Chinese Confucius Institute.
The Confucius Institute has two directors/administrators, one of whom is in charge of Pakistan and the university, while the other is from China. Dr Muhammad Nasir, Director of Confucius Institute, wrote to the Security Advisor to take steps for the security of Chinese teachers.
In a letter written to Director of Confucius Institute on March 31, a copy of which is available with M.M News, Dr Muhammad Zubair – Security Advisor appointed by Acting and Interim Vice Chancellor Dr Nasira Khatun – said, "It has been observed that Chinese teachers often moved foreign faculty Guests House outside the campus without the Rangers and police protection if any mishap happens the KU security will not be responsible.
Later on April 6, Dr Muhammad Nasir, Director of Confucius Institute, replied: "Being a Pakistani, we know that our beloved country and China have an extraordinary relationship and the safety and security of the Chinese faculty are our collective prime objective."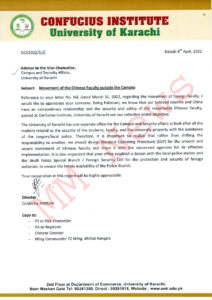 In the letter, the director further wrote that Karachi University has a separate security office for foreign institutes and teachers in which security is provided in collaboration with police and Rangers. He warned the security adviser that he should not acquit himself by writing this letter and that he was equally responsible for the security.
The director also suggested Muhammad Zubair to make a standard operating procedure (SOP) in which security measures should be taken and should be shared with the relevant security agencies including Chinese teachers and students.
The letter further said that SOP should be formed in collaboration with Sindh Police, local police station, Special Branch and security personnel of foreign countries to ensure timely security arrangements.
It should be noted that Acting VC Dr. Nasira Khatun had removed Dr. Moeez Khan, a former Security Adviser, a month ago and made Dr. Muhammad Zubair of the Islamic History Department as new Security Advisor.  Due to his incompetence, Karachi is facing humiliation at the international level due to a recent terror attack.
Teachers, meanwhile, say a high-level inquiry should be held into Dr Muhammad Zubair's poor strategy and failure to take timely action to find out why a month was wasted when Chinese teachers were at risk. The blast occurred and could have far-reaching international repercussions.
Security Advisor Dr Muhammad Zubair was contacted in this regard. He said that he had come to Bahawalpur a day ago on leave from his Department of Islamic Studies. He said that he was on leave till May 5. He admitted that the teachers of the institute were in danger and our security agencies including the Rangers and the concerned departments were discussing the SOP.
It may be recalled that the second blast took place at Karachi University after the tenure of Dr Pirzada Qasim. In Pirzada Qasim's time, there was an explosion outside the main dining hall at noon when prayers were being offered on the lawn.