Vehicles of School Education Dept being used by unauthorized persons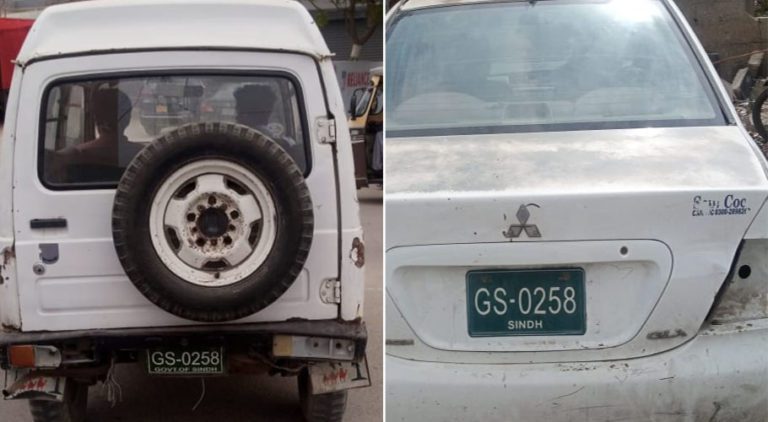 KARACHI: The official vehicles of the School Education Department, a subordinate directorate of the education department, have not been recovered from unrelated persons for the last several years.
Several officials of the department have not returned the vehicles even after their retirement, it has been reliably learnt. It has now been revealed that an official Corolla is being used nu the son of former DEO district east son.
Regarding the ban on private use of government vehicles and return of vehicles, former director Abdul Rauf Kandhro had written letters to the ministers, personal secretaries, former education officers and all those using the vehicles to return them but the vehicles were not returned. The new school director has also not taken any action yet.
Among the vehicles are those used by Director School Education, Elementary, Secondary and Higher Secondary, Hyderabad, Syed Rasool Bux Shah. He is using the government vehicle number GSE408, former director P&D of the directorate of school education, Raees Ali Jaffery is using GSE226, According to a letter issued by Dr. Aftab Ahmed Sheikh, Director General HR Training is using a Suzuki Cultus GSE189 which he has been asked to return.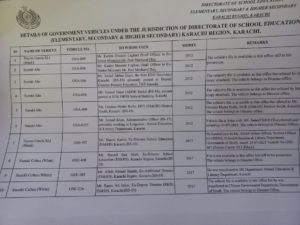 According to the documents, dozens of vehicles belonging to the Directorate of School Education Elementary Secondary and Higher Secondary Karachi Region are being used by unauthorized persons, including the 2012 Toyota Corolla GSA059 and the 2012 Suzuki Alto GSA010 is being used by the personal Secretary to former Minister Pir Mazharul Haq which they have not yet returned.
Former Grade 19 officer Abdul Jabbar Dayo owns Suzuki Alto GSA006, former Grade 18 EDO Dadu Sarwar Dayo using Suzuki Alto GSA008, Sarwar Dayo is headmaster at Government Boys Secondary School Kotwal Building Karachi, District South's DEO Ghulam Haider Bhalo has a Suzuki Alto GSA009.
In addition, Jameel Khan, Administrative Officer, Grade 17, School Education and Literacy Department, Karachi, has a Suzuki Alto GSA0335 and a black Toyota Corolla XLI GSE407 is being used by Hamid Karim, former Director, School Education Department.
Read more: Gardener of Parks dept Karachi central promoted to grade 17
It is learned that former DEO East Anisa Bughio is using the official GS0258 white Potohar while the white Toyota Corolla is being used by her son with the same number.
In this regard, Anisa Bhagio when contacted said that currently she is the headmistress of Liaquat Market School and she is using old vehicle of 90s GS0258 since she was SDO. She refuted that there is no such vehicle in her son's use.
Meanwhile, Secretary Education School Ghulam Akbar Leghari was contacted several times regarding private use of government vehicles but he did not pick up the phone.