Uzma Khan scandal: Wife of Usman Malik issues video statement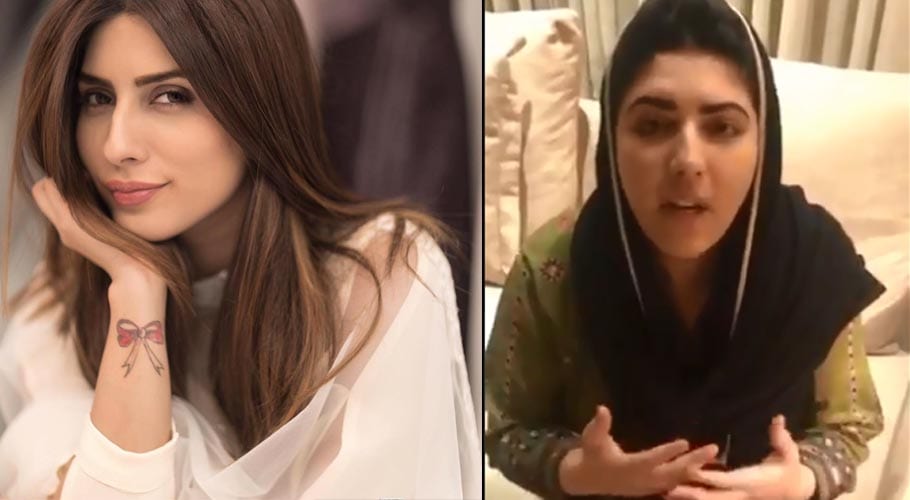 LAHORE: As the controversy surrounding actress Uzma Khan escalates, another video has emerged of a woman calling herself the wife of Usman Malik, the man at the centre of the issue.
The woman, Amna Usman, issued a video statement, shared her side of the story and 
claimed that her husband Usman Malik was not related to business tycoon Malik Riaz.
She said that she repeatedly asked Uzma to stay away from her husband, but the actress paid no heed to her warnings. Amna also said that the house where the incident took place was owned by Usman and not Uzma.
"Firstly, I'd like to add that my husband, Usman Malik has nothing to do with Malik Riaz Hussain, he's not a part of his immediate family. This is being done to malign Malik Riaz; this is a personal spat between Hassaan Khan Niazi and Malik Riaz Hussain."
"As far as barging into someone's home is concerned, this was not their house. This was my husband's other house which I followed him to so basically this was my husband's home and I have every right to be there. I repeatedly warned this girl to save my 13-year-long marriage. This was not the first time I approached her," she added.
EXCLUSIVE: Amna Usman, the wife of Usman Malik just came out… #UzmaKhan
Part – 1 pic.twitter.com/4O26GdVXEN

— Shiffa Z. Yousafzai (@Shiffa_ZY) May 27, 2020
Actress Uzma Khan has filed a complaint against two women who allegedly broke into her house with armed gunmen and instigated violence. The actress alleged that women, whom she claimed were the daughters of business tycoon Malik Riaz, threatened and harassed her.
"I have been shamed, harassed, been threatened to kill in the past 3 days. I feel like I have nothing to lose now and I have decided to fight the strongest people of Pakistan," she said in a statement. "For me it is either I get justice or I get killed but there will be no turning back now."
"I will fight against daughters… of Malik Riaz who stormed into my house around midnight with 12 gunmen. I request the police to register my FIR and conduct me and my sister's medical examination before our wounds start to heal. I hope I am as much Pakistani as Malik Riaz."
The statement came hours after a video circulating on social media showed the actress and her sister being confronted by a group of women. She has been accused of having an affair with Usman Malik, who is said to be related to the business tycoon.