US-India relations and President Trump's visit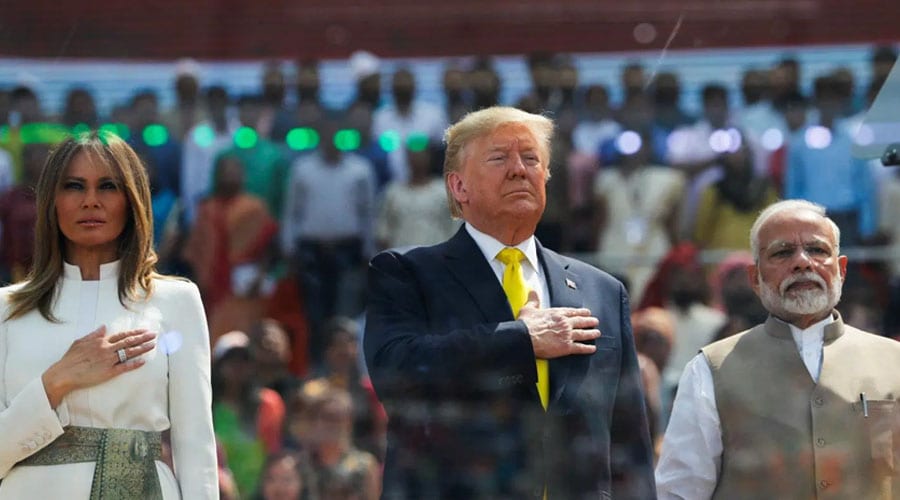 President Donald Trump concluded a two-day state visit to India with plenty of impressive photos and pageantry but without major announcements on trade or security.
Trump departed having cemented his friendship with Indian Prime Minister Narendra Modi saying that relations with India were stronger than ever before.
US relations with Pakistan, India
We need to understand the perspective and the geopolitical situation as the US juggles its relations with India and Pakistan.
The US wants to end the decades-old war in Afghanistan and withdraw its troops from the war-ravaged country. A historic deal between the US and Afghan Taliban is expected to be signed on February 29 in the Qatari capital Doha.
Pakistan has been invited to witness the signing agreement as its role in the Afghan peace process cannot be undermined. The US President was cautious to not directly criticize Pakistan much to the disappointment of the Indian leadership.
India was completely shunned from the Afghan peace process. The return of the Afghan Taliban could bring them directly at loggerheads with India creating a new conflict. India would also seek investment opportunities in Afghanistan as the reconstruction efforts commence after the war.

US has 'very good relations' with Pakistan
The US needs to maintain cordial relations with Pakistan. Talking to a large crowd at the Motera Stadium in Ahmedabad, the largest cricket stadium in the world, Trump said the US has "a very good relation" with Pakistan.
"US and India are committed to stopping terrorists and fight their ideology. For this reason, since taking office, my administration is working in a very positive way with Pakistan to crack down on terrorist organisations and militants which operate on the Pakistani border," said Trump.
"Thanks to these efforts, we are beginning to see signs of big progress with Pakistan and we are hopeful of reduced tensions, greater stability and the future of harmony for all of the nations of South Asia," Trump said.
This certainly would not have gone well with India leadership which would brush aside Trump's remarks. India was also irked when Trump offered to mediate between India and Pakistan, saying that both countries have been working on it for a long time and it has hampered peace.

America loves India: Trump lavishes praises on Modi
Trump started his journey in Ahmedabad with a rally named "Namaste Trump". This was in reference to the "Howdy Modi" rally in Houston last year which was also attended by the US President.
Trump opened his speech by declaring that he traveled 8,000 miles to deliver the message that "America loves India, America respects India and America will always be faithful and loyal friends to the Indian people".
The president said the United States was prepared to supply India with defence equipment, ranging from drones to helicopters and missile systems but the visit was short any trade deal.
Trump mentioned US strikes on "radical Islamic extremists" saying that "under my administration, we unleashed full power of American military on bloodthirsty killers of ISIS. Today, ISIS territorial caliphate is 100 percent destroyed," he claimed. "Al Baghdadi is dead."
While US media interrupted the message as the President meant, Indian and Pakistani media framed it to suit their national interests and use the speech to condemn each other.

Pakistan's reaction to Trump's statement
Donald Trump's statement was interpreted separately in Washington, New Delhi and Islamabad. There has been condemnation of Trump's praise for Pakistan while even the radical organisations have remained silent.
Foreign minister Shah Mehmood Qureshi welcomed US president's remarks, saying the importance of Trump's statement "could not be ignored".
"President Trump's statement was extraordinary and no one can deny its importance which he made before the supporters of India's ruling party," Qureshi said.
No condemnation of Indian policies
Trump created a geopolitical flashpoint when he mentioned Pakistan and Kashmir when visiting India. Foreign leaders have avoided raising the issue but India will see it minor digressions.
Trump also refused to comment on the ongoing protests and religious intolerance. The Indian capital New Delhi witnessed massive protests on the eve of his arrival. Supports and opponents of the contentious Citizenship Amendment Act clashed leading the death of fourteen people.
Trump went a step further than expected as he praised Modi's efforts in given religious freedom to every community in India. This may have countered the discomfort caused to Indians over the mention of Kashmir and Pakistan.

US-India relations
The biggest risk between the US and India's relationship is the unpredictability of the Trump administration. Prior to the visit, the US leader has called Modi the "tariff king" and said India had been "hitting us very, very hard for many, many years".
There lies a fraught relationship between the two counties as Trump's "America First" drive collides with Modi's "Make in India" mantra. Trump has imposed tariffs on Indian steel and aluminum and suspended duty-free access for certain goods, prompting India to raise duties on US produce and imposed e-commerce restrictions.
Modi would hope to keep Trump on its side for strategic and security reasons but the future of the relationship depends on the upcoming US presidential elections. India has also cherished to become the 'regional policeman' after the US exits Afghanistan.

What US wants from India?
The US is cautious about China's growing presence in South Asia. China has made huge investments in Pakistan and the US realises India is the only bulwark against Chinese influence. India is the world's largest economy and the fifth-largest economy and its influence cannot be undermined.
Trump's visit will be remembered more for the photo opportunities, a crowd cheering for him at a rally, a tour of the Taj Mahal, and homage to Mahatma Gandhi, but lack on substances and absence of any major agreements.
The expectations for any major breakthrough in trade deals were tempered before the visit and failed as expected. Despite that Trump left on a positive note saying relations with India are "closer than ever before".