UN Secretary-General calls on PM Imran, discuss various issues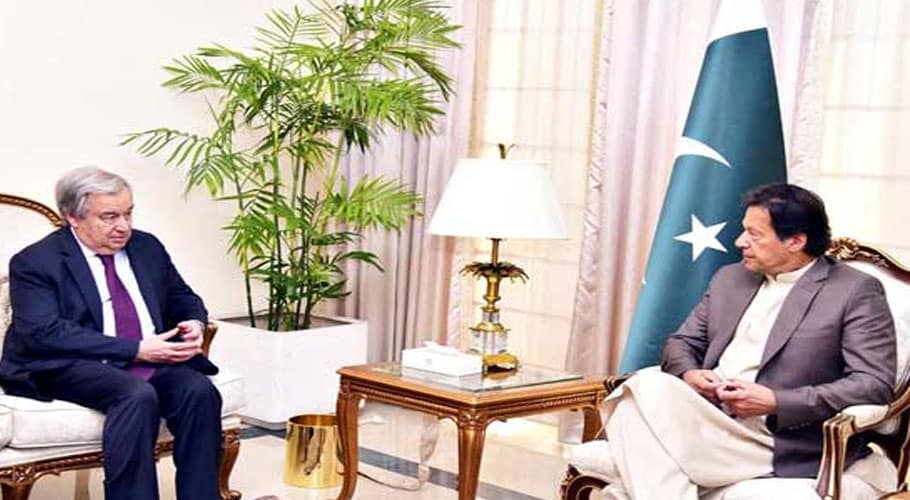 ISLAMABAD: United Nations (UN) Secretary-General Antonio Guterres called on Prime Minister Imran Khan (today) Monday.
During the meeting, matters pertaining to Afghan refugees, Afghan peace process, Kashmir dispute, and climate change came under discussion.
The Prime Minister highlighted the violations of human rights in Indian Occupied Kashmir and constant brutalities of Indian troops on Kashmiris. He underscored the Kashmiri people continued to look to the United Nation to honour its commitments for the realisation of their right to self-determination.
PM Imran further added that India's ceasefire violations and other aggressive actions were risking the peace in the region. He also highlighted the possibility of India's false flag operation.
Referring to Afghan Refugees, PM Imran informed the UN Chief about Pakistan's generosity in hosting millions of Afghan refugees for the last four decades, adding that Pakistanis drew inspiration from the teachings of Holy Prophet (S.A.W.).
During the meeting, the premier underscored the unimportance of the military in Afghan conflict. He assured Pakistan's support in Afghan peace process. He highlighted the importance of peace in Afghanistan which would facilitate the return of Afghan refugees to their homeland in dignity and honour.
PM Imran assured UN Chief that Pakistan would stand by United Nations to pursue swift implementation of Paris Climate Agreement.  He also stressed that Climate Change posed an existential threat to mankind.