UK General Election 2019 Corbyn vs Johnson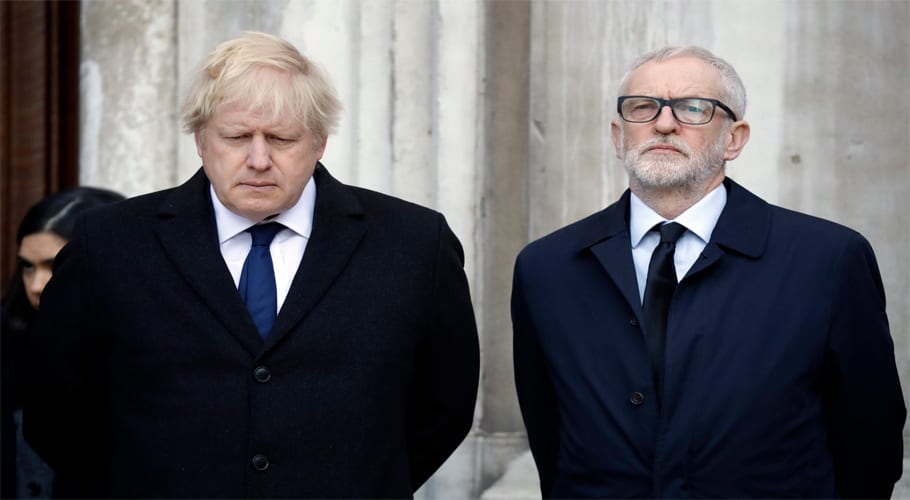 LONDON: On Friday morning, the UK will wake up to the final general election results, The latest polls give Boris Johnson's Conservative Party a lead of around 10 per cent.
Since June 2016, Britain has been in the throes of uncertainty. Although the result of the referendum was marginally in favour of leaving the European Union (EU).
READ MORE: Pakistan receives Rs28 billion from UK crime agency
It was not known then, or even today, three years later, on what terms and conditions will Britain be exiting the Union.
This uncertainty about Britain's future has seriously impacted its economy and its position in the world.
It is no wonder then that this crisis has resulted in an unceremonious and premature end of the premierships of two consecutive prime ministers, i.e. David Cameron and Theresa May.
The referendum's outcome also gave rise to one snap election in June 2017, which led to a reduction in the Conservative party's majority and a hung parliament.
The United Kingdom is now deeply divided into two political tribes: the 'remainers' and the 'leavers'.
READ ALSO: Ed Sheeran crowned UK's artist of the decade
This split is also visible in the parliament, where numerous bills and resolutions regarding the European Union have failed to attain any majority.
On December 12, Britain will head to the polls, the third in four years, and under the shadow of Brexit.
The government led by the Conservative party insists that the general election will help break the current impasse and assist the political party to achieve absolute majority in the parliament.
This means it will have to secure 326 plus seats in the house of 650 lawmakers.
However, results of the last three elections have resulted in a hung parliament or in a modest majority for the Conservatives.
READ MORE: Admiral Zafar Mahmood Abbasi visits UK, meets hierarchy of Navy
David Cameron governed in collaboration with the Liberal Democrats from May 2010 to May 2015. He resigned after he lost the EU referendum. 
Labour Party is hopeful to gain over 320 seats in the parliament.
On the other hand, smaller parties such as the Liberal Democrats, Scottish National Party, DUP and Sinn Fein have registered a strong presence in a few constituencies, and have become serious contenders.