At least two dead, 14 injured in Quetta blast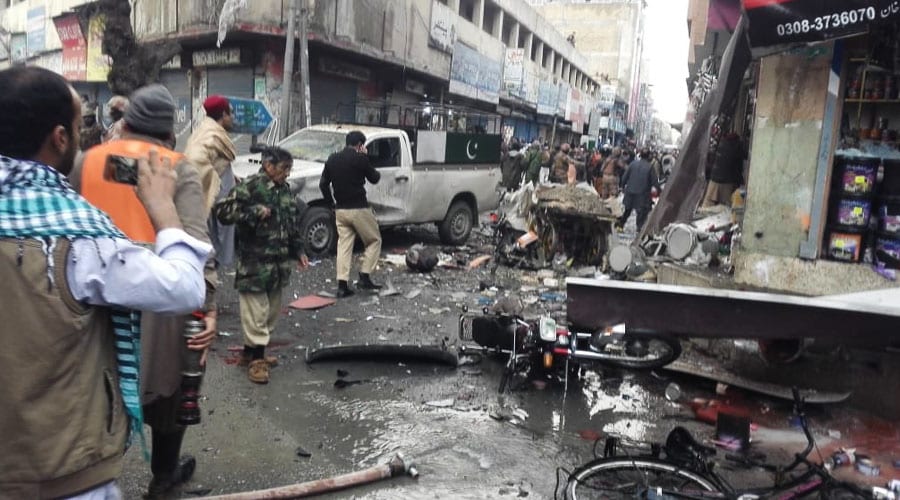 QUETTA: At least two people were killed and several others were injured on Tuesday in a blast on McConaghey Road near Liaquat Bazaar in Quetta.
Police said that initial findings suggests that explosive material may be involved. The blast took placed a motorcycle parked exploded. Several nearby shops have been damaged. The area has been cordoned off and investigation teams are on the ground.
A state of emergency has been declared at Civil Hospital. The hospital's spokesperson toll media that two bodies were brought to the hospital while fourteen other including two security personnel have been admitted.
Balochistan Chief Minister Jam Kamal has strongly condemned the incident and has sought a detailed report. "Cowardly terrorists once again seek to upend peace in the city as well as the province," he said, adding that those targetting innocent civilians will be brought to justice.
The chief minister stated that more effective security measures will be put in place for the city and the terrorists will no longer be able to act with impunity. He instructed the health secretary to ensure the best possible treatment for the injured. He offered his condolences to the heirs of the deceased.
Balochistan Home Minister Mir Ziaullah Lango condemned the blast, saying it had occurred near a Frontier Corps vehicle. He said miscreants were trying to disturb the peaceful environment in the province.
The minister said the injured will be provided best medical treatment. He directed law enforcement agencies to take stringent security measures to prevent such incidents.