Turkish President attends first prayer in Hagia Sophia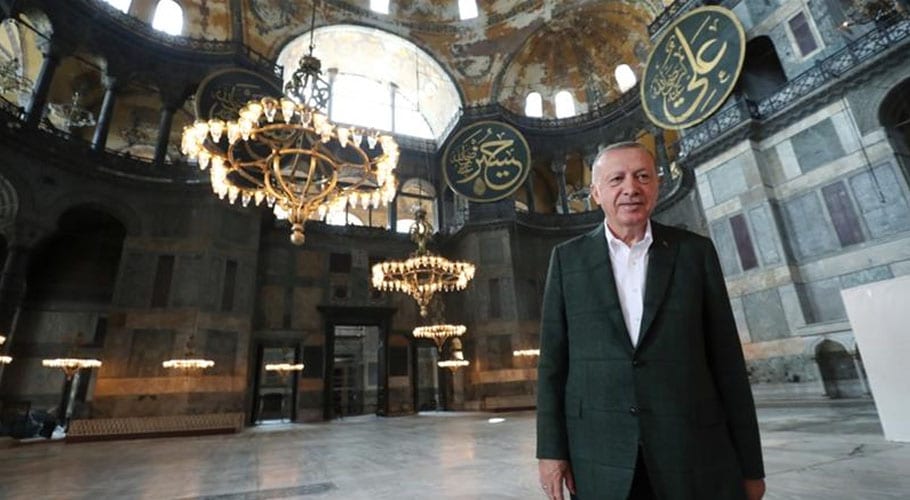 ISTANBUL: Turkish President Recep Tayyip Erdogan has attended the first prayer in the Hagia Sophia since the museum has been turned back into a mosque.
Around 500 people are allowed inside the mosque for the first prayer, with thousands more expected to join from outside the building. Earlier this month on 10th July, Turkey's Council of State ruled the landmark to be turned back into a place of worship, overturning a 1934 decree which made the mosque into a museum. 
Hagia Sophia became a museum in 1934 but earlier this month, a Turkish court annulled its museum status and saying its use as anything other than a mosque was not possible legally.
Read more: Hagia Sophia-From museum to a mosque
He added that Hagia Sophia would remain open to all Muslims, non-Muslims, and visitors. As precautionary measures, the Governor of Istanbul has urged everyone to bring face masks, a prayer rug, patience, and understanding to prevent the spread of coronavirus.
Reportedly, around 1,000 people would be able to attend prayers at the site at any one time. The iconic, domed building of Hagia Sophia is located in the Fatih district of Istanbul.
Since 1934, it has since become one of Turkey's most visited tourist sites, hosting more than 3.7 million tourists last year.