Traffic police impose fines for not wearing masks in Lahore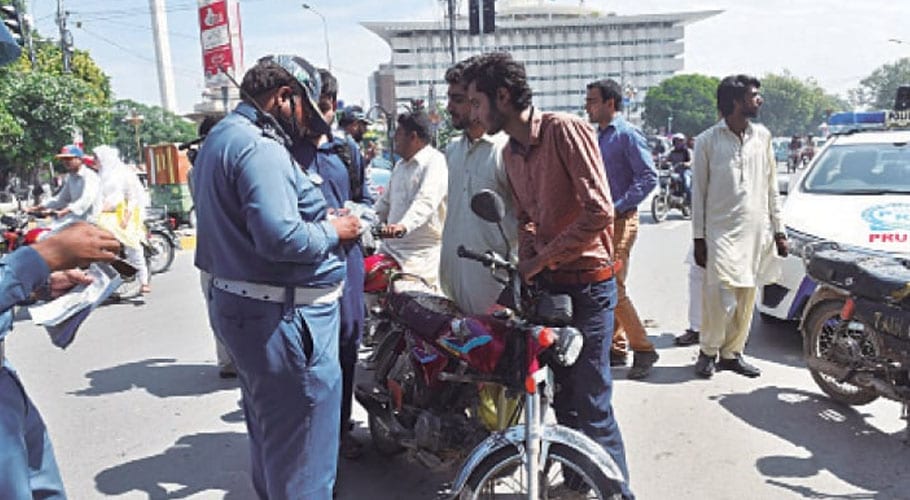 LAHORE: Traffic police have started imposing fines for not wearing masks in cars and on motorcycles amid the rising number of coronavirus cases.
Under the CTO Lahore and Deputy Commissioner, eight teams have been formed throughout the city to enforce Standard operating procedures (SOP)s. Traffic wardens are also expected to aid the teams in this attempt.
The effort to implement the SOPs across Punjab and Khyber Pakhtunkhwa (KP) has increased while other provinces are also forming teams to tackle the problem.
Earlier on Thursday, a private school was sealed in Lahore while a utility store was shut down in Islamabad over not following the government's orders of SOPs.
It is to be noted here that Pakistan has reported 4,896 new confirmed cases of the novel coronavirus in the last 24 hours.
The country now has 89,249 cases while 68 deaths were recorded the day earlier. A total of 1838 people have lost their lives to COVID-19 so far.
There have been 33,536 cases in Sindh, 33144 in Punjab, 11,890 in Khyber-Pakhtunkhwa, 5,582 in Balochistan, 3,946 in Islamabad Capital Territory, 852 in Gilgit and 299 in Azad Kashmir.
Out of a total of 1,838 deaths, Khyber Pakhtunkhwa has reported 521 deaths, Sindh 575, Balochistan 53, Gilgit-Baltistan 12, Punjab 629, Azad Kashmir 07 and Islamabad Capital Territory has reported 41 deaths.