The dramatic story of PTI's dissidents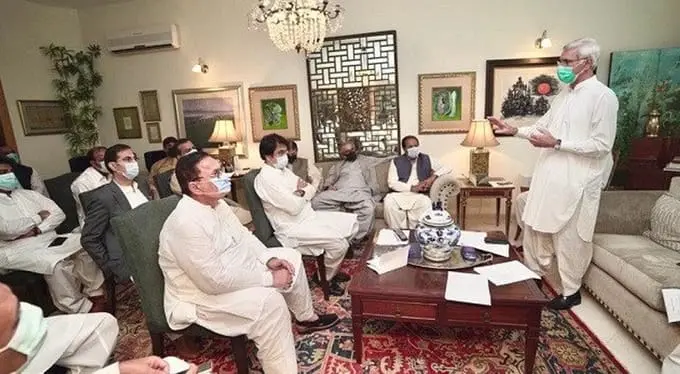 Different rumours and news were circulating about disgruntled PTI members of the national assembly for the last few days. Firstly the opposition claimed that it has got the support of 15-20 PTI members. The government ministers not only kept negating the opposition claim but also claimed that certain opposition MPs are in contact with them.
This rhetoric is underway since many days. On Thursday, however, two prominent TV anchors were taken to Sindh House, where some of PTI's dissident MPs talked to them, in which it was claimed that around two dozen MPs are dissident and some of them are staying in Sindh House, as they are fearful that the government by its any tactic can stop them to attend the National Assembly meeting. It may be recalled that the Sindh House is under the control of the Sindh government, i.e. the Peoples Party has a hold here.
Most of the dissident MPs are those, who were ignored by the PTI government as they are close to the Jhangir Tareen group or were not in the good book of Imran Khan, while another main factor is their nonsatisfaction with Chief Minister Usman Buzdar. Most of them either belong to Faisalabad Division or Central Punjab. On Thursday, four dissident members public their disloyally in videos on different TV channels. In them, Raja Riaz of Faisalabad and Nawab Sherosair are on the top of the list, while Basit Sultan of Muzaffargarh and Noor Alam of Peshawer also included. They have claimed that 24 more members are with them.
Ramesh Kumar, the minority MP of PTI, also seems to be part of the dissident members. He is a person who has relations in important circles. His sedition from the party is showing some others signals too. In the TV potages, there were also some women MPs. Their issue is easy as they have to select on reserved seats and don't have voters pressure or the tension of constituency, and if the PPP, PML-N ensure them they will easily change their loyalty.
The  MNA from Peshawar, Noor Alam has been disgruntled and dissident from the party for the last two years and openly criticized the PM and the PTI. Raja Riaz also openly became an opponent. He is one of the significant figures of the Tareen group. Riaz actually has the complaint of snubbing and neglect by the party . He is a veteran politician and thought that Imran Khan will appoint him as a minister, but the PM gave the slot of state ministry to younger Farukh Habib because of his quality of outbursting statements.
Raja Riaz is completely ignored. The issue of Nawab Sher Waseer is very interesting as he has become MNA while defeating Talal Chaudhary of PML-N. It is difficult for PML-N to grant him a ticket for the next election, but it seemed that he believes that he can win the seat by himself. Basit Sultan is an independent MNA, who won the seat by his own power and next time also can do the same.
The remaining names of the disgruntled group of South Punjab are coming in front one after one. It is said that the important politician and kingmaker of South Punjab Nasrullah Dreshak is also part of this group. He is actually a close friend of Jhangir Tareen.  The MNA from DG Khan Khawaja Sheraz is also a severe opponent of Usman Buzdar. The dissident PTI member from Multan Ahmad Dhair is also a severe opponent of Usman Buzdar and Shah Mahmood Qureshi.  They all were part of the Tareen group and badly disturbed when Tareen cornered.
Rana Qasim Noon of Multan and Amjad khosa, Jaffar Laghari, Riaz Mazari, etc of DG Khan Division are also counted in the dissident's list. They are negating this but the doubt still remains.  Sun of Makhdoom Ahmad Alam from Liaquat Pure, Mubain Alam win the seat on the PTI ticket. He is close to Yousaf Raza Gailani and it is said that he was included in those who voted Gailani in the senate election. Federal Minister Syed Fakher Imam's name is also said to be in the list. It is said that local opponents of Fakher Imam wanted to join PML-N, but allegedly Mian Sab( Nawaz Sharif) said no, we will take Fakher Imam as he as a cleaned person.
An interesting story of Sikandar Bosan is also told. Currently, he is not MP but his story has particular importance. As per a narration, Awais Laghari and Abdul Rehman Kanjo of PML-N tried to bring former state minister Sikandar Bosan into PML-N, but Mian Nawaz Sharif denied it.  Nawaz Sharif is still angry over Bosan that he was part of his cabinet but in the election instead of taking the PML-N ticket he accept the PTI ticket over the instigation of  Shah Mahmood Qureshi. Though later PTI took the ticket back from him over the protest of the party workers and granted it to Ahmad Hussain Dhair and he won the seat. If this narration is true then the sedition of Dhair is understandable. If PML-N gives him a ticket he can win again easily.
Usman Buzdar factor
Usman Buzdar factor is a very important factor behind forming of a disgruntled group of PTI. It is said about Buzdar that apparently he looks very simple, meek, and less talking person, but in fact, traditional politics is an integral part of his personality and he plays the political game very wisely, especially the politic of assembling and dissembling. The Buzdar tribe has been considered the smallest and unimportant in the Baloch tribes of DG Khan. The Laghari, Khosa, Dareshak, Mazari, Gorchani, etc tribes are included in large Baloch tribes.
These big Baloch tribal chiefs were not happy over giving the Chief Minister slot to an unexperienced and unpopular son of the chief of a small tribe and Usman Buzdar felt this.  It is said that, though Buzdar used sweet words but tried to get the big tribal chiefs furious against each other so they keep fighting among them. But the problem is that all these big tribal chiefs are in politics for a long time and instead of fighting against each other they knew each other very well and have mutual contacts and relations, so Usman Buzdar was exposed soon and all tribal chiefs stood against him.
Nasrullah Dareshak is an old and experienced politician, having contacts and relations in every side. He also has deep familiarity with Pindimen ( Pindi walon). His son Hussnain Dreshak was the provincial finance minister in the era of Pervez Elahi. Buzdar intentionally gave an unimportant ministry to Hussnain and that too wanted to change after one year.  Over this Hussnain severely reacted by saying that you are changing my slot when I got vast awareness about the same in last one year. Anyway, Dareshak is still not openly opposing PTI. He is also part of the team, which is busy in negotiation with Khawaja Sheraz, Riaz Mazari, and others in the parliament lodges. Those who knew Nasrullah Dareshak, say that highly experienced Baloch politicians never do a deal of loss and at the decisive moment will go to the side of winners.  
MNA Khawaja Sheraz belongs to the constituency of Usman Buzdar. He is related to the popular Khwajgann of Taunsa. Usman Buzdar gave a tough time to Sheraz from the day first and tried to form his group so that win both the national and provincial seats of the constituency in the next elections.  Sheraz has been fed up with Buszdar for three years. He protested time and again and also tried to meet Prime Minister Imran Khan. Sheraz still claiming that if Prime Minister announces the removal of Buzdar on 27th March, he will vote in favor of PTI otherwise will support the no-trust motion.
Jaffar Khan Laghari, Amjad Khosa, Adnan Mazari is also unhappy with the party because of Buzdar. One factor is that they all are very powerful in their constituencies and don't need PTI's tickets for the next elections. It is ok if PML-N gives tickets otherwise they can win the seats by themselves.
Anyway, remember that MPs of South Punjab are not of the nature to show their anger with a traditional style and publically challenge their opponent, instead, they change their loyalty in the eleventh hour.
Importance of PML-N ticket:
Keep this in mind that when elections were going to be held after one year or six months, an MP before going to be dissident must consider which party ticket will be useful for him.  Most of the dissident MPs are those, who were either ensured by PML-N regarding tickets for the next election or they are able to win the election by themselves, i.e., they are electable.
In Sindh House, Nawab Sher Waseer told the Journalists that more MPs are ready to join them, but PML-N cannot adjust them.  This is a highly important point. How can PML-N accommodate dissident MPs in the constituencies where the party has their own MPs or it has loyal and strong candidates here for the next election?  On the basis of this factor, many MPs are confused.
Riaz Fatyana is PTI's member assembly from Kamalia. He is also discontent over ignoring by the party for two years. He will publically announce his dissident today, but Nawaz Sharif cannot ignore the candidate PML-N has against Fatyana.  But still, the dissidence of Fatyana is possible. However, Raja Riaz has received a green signal from PML-N. Asim Nazeer also belongs to a powerful family, PML-N last time didn't give him the ticket but he become MNA while contesting independently. This time PML-N can give him the ticket.
Sons of Jhang are popular for their changing of loyalty. This time too they are considering joint the dissidents. The can also be accommodated by PML-N. Besides this, the name of Ghulam Bibi Bharwana is also talked about. Ghulam Ali Lali of Sargodha was also mentioned and he negates but negation is now a common thing here and no one takes it seriously. Actually, many of them are those who had joined PTI over the signal and now when the government doesn't enjoy the support of "those" then what is their compulsion to remain loyal to the government in this difficult time, that too when there are attractive benefits on the other side.