Social media users demand apology from TV anchor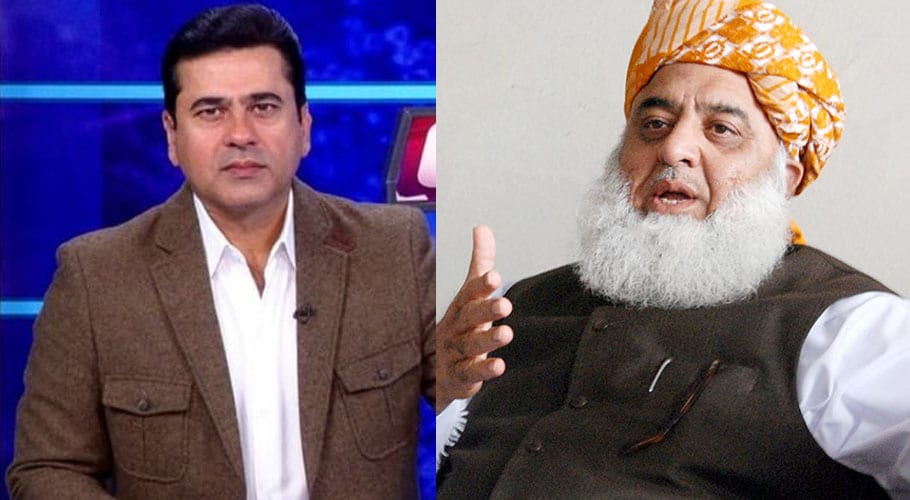 LAHORE: Anchor Imran Riaz has received criticism for fabricating accusations against noted Islamic scholars and politicians for not speaking up against Israel.
According to the anchor, Islamic scholars including chief of the Jamiat Ulema-e-Islam Fazal-ur-Rehman, have never spoken against Israel, particularly after the receiving move to established relations with Arab countries.
The TV anchor claimed that Maulana Fazl was silent over the issue because he was receiving funding from Arab countries. He said the JUI-F chief has made accusations against Prime Minister Imran Khan for being a 'Jewish agent' and his former wife but have themselves not commented on the situation.
However, a social media influencer in his video claims that Maulana Fazl has spoken against not recognizing Israel as a state. He even showed a clip where the JUI-F president is speaking against Isreal.
Many users have initiated a trend named #ImranRiazKhanMuafiMango and demanded an apology for bashing Islamic scholars without any evidence.
There is no difference between Imran Riaz and haqeeqat Tv. This 3rd class journalist are spreading false propaganda against Ullama.

— Shakeel Ahmad Jan🇵🇰|Y|🇹🇷 (@SK_Morsi) August 18, 2020
I taught He will be a great journalist talking with soft tone & truth but today I realised that he is Number. 1 Faraudi !!#ImranRiazKhanMuafiMango pic.twitter.com/M7Z4fnzbUi

— Ghulam Mohiuddin (@ghula_mohiuddin) August 18, 2020
Watch the video @ImranRiazKhan
Maulana Fazal ur Rehman
Statement On UAE & Israel Peace
Thank you for expose @iammuhammadafaq
And thanks @realikramnaseem
pic.twitter.com/EG2mdooPuG#ImranRiazKhanMuafiMango

— Asmaikram🍥 (@Asmaikram13) August 18, 2020
Shame on you#ImranRiazKhanMuafiMango

— Malikimdad (@Malikimdad17) August 18, 2020
Many of them have defended and supported the stance of the TV anchor, stating that he was a notable and well-reputed journalist. They claimed that politicians like Maulana Fazl were biased and corrupt.
Imran Riaz Khan is a credible, bold, incorruptible journalist.
He will continue to expose fake, corrupt politicians, mullahs, lifafas, bureaucrats.
So it's useles to try intimidate him with such cheap trolls. #ImranRiazKhanMuafiMango pic.twitter.com/frEjsVWymB

— Muneer Khan (@MuneerK77730075) August 18, 2020
Baray aye baray gae but sir salam hai apki suchai aur azmat ko inshAllah Allah ki madad aye gi #tuesdayvibes#ImranRiazKhanMuafiMango

— Salman Maqsood (@salmanmaqsood80) August 18, 2020
Imran riaz Khan keep it up . Keep exposing rial khor who do nothing in favour of Paksitan. Only they want is rial. We also know the molana diesel . We stand with imran bhai.♥️ #ImranRiazKhanMuafiMango pic.twitter.com/Md6mCnmHF1

— Malik Ahmad (@MalikAh13713054) August 18, 2020
#WeStandWithImranRiaz plz Guys trend this to show your support for Imran Khan who is exposing Mafias who are looting Pakistan well done Imran khan we are with you keep on doing your work and shame on those who started this trend#ImranRiazKhanMuafiMango pic.twitter.com/hGdENLd9jU

— Hamza Kaleem Butt (@hamzabutt61) August 18, 2020
All he said was that most Ulemas are silent on UAE recognizing Isreal bcz they get financial support from Arab States and I honestly couldn't find anything wrong with this statement.#ImranRiazKhanMuafiMango

— Ayaz (@A_y_a_z_Joiya) August 18, 2020