Sindh reports 1,585 COVID-19 cases in 24 hours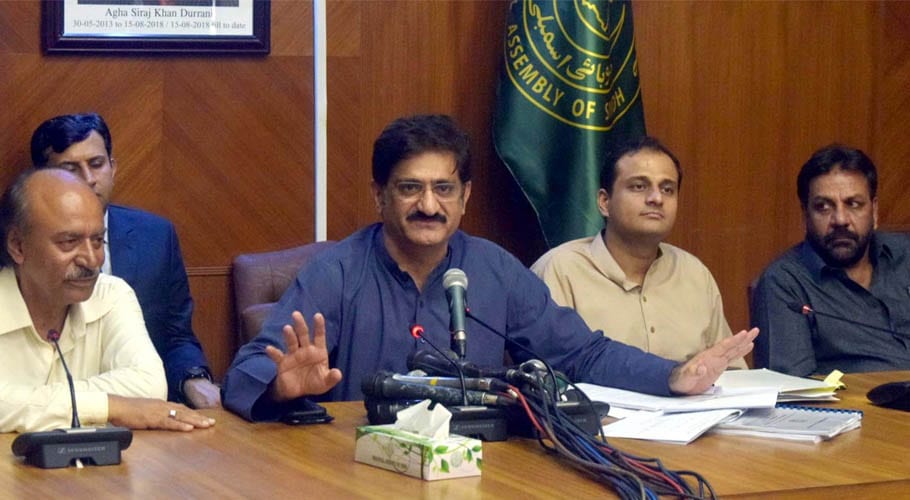 KARACHI: Sindh Chief Minister Syed Murad Ali Shah has said that 1,585 more COVID-19 cases were reported in the province on Saturday and 42 more patients had succumbed to the virus.
In a statement, CM said that following this development, the province's COVID-19 tally had soared to 92,306 and the death toll had reached 1,501.
Murad Ali Shah further said that 1,480 more patients had recovered from the infection, raising the total number of recovered patients in the province to 52,388.
"This leaves 38,417 patients under treatment, among whom 36,515 are home-isolated, 299 are in isolation centres and 1,603 in hospitals", he added.
He said that among the patients under treatment, 733 were critically ill with 98 on ventilators.
The Sindh government, in a bid to enhance COVID19 treatment, decided to convert 8,672 beds in isolation centers to oxygenated beds for high dependency units (HDUs) and procure more ventilators.
In a meeting presided over by CM Murad Ali Shah, it was decided that more HDU beds, with high and low oxygen flow options, would be procured.
The equipment would be an addition to 530 ICU beds, each equipped with a ventilator, and 1,810 HDU beds in Sindh's public hospitals.
In addition, the meeting decided to carry out the conversion of over 8,000 beds in isolation facilities into HDU beds.
Addressing the meeting, Murad Ali Shah said that since the government could not test everybody, it had decided to conduct targeted screening.
He also insisted that a lockdown was the only solution to curb the spread of the COVID-19.
Giving the example of East district, he said that 247 active cases were reported in Gulshan-e-Iqbal and 214 in Jamshed Town on June 17, when a partial lockdown was reinforced in these localities.
On July 2, when the lockdown was lifted, Gulshan-e-Iqbal reported 283 cases and Jamshed Town 90, while 66 people recuperated from the infection in the former and 187 in the latter, he added.
"This indicates that lockdown is the only way to contain the virus," the CM observed.