Sindh govt appoints 'unqualified' minister as Pro-Chancellor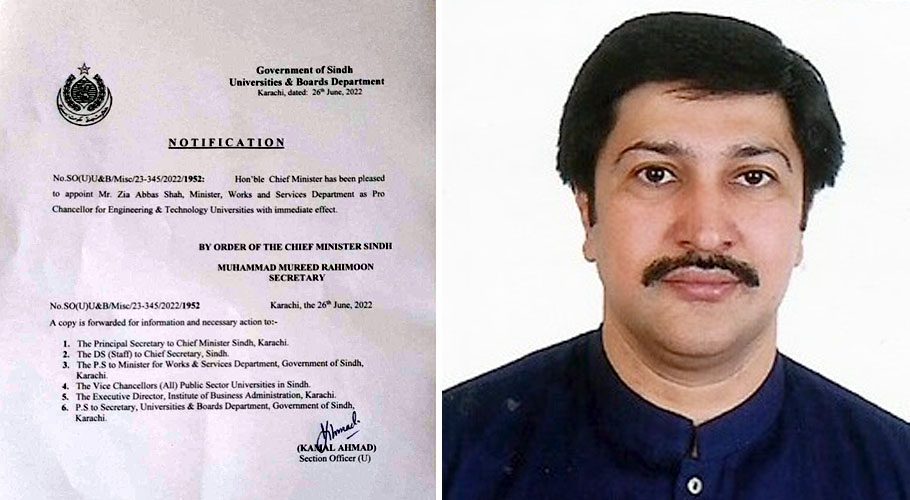 KARACHI: Sindh government has appointed Syed Zia Abbas Rizvi, PPP leader and provincial minister for Works and Services, as Pro-Chancellor of the Engineering and Technologies Universities.
Usually, Minister for Universities is a Pro-Chancellor, but for the first time, the post has been given to Rizvi in an undue favor.
According to notification  NO.SO (U) S & B / Misc./ 23/345/2022/1952 issued by the Secretary of Board and Universities on Sunday, instead of Minister for Universities, the minister of Works and Services has been appointed as a Pro-Chancellor of Universities of Engineering and Technologies across the province.
Syed Zia Abbas Rizvi, son of Ali Nawaz Shah Rizvi, was elected MPA from PS-60 Tando Allahyar. He was appointed as the Minister of the Sindh Works and Services Department. At present, he has been given the chairmanship of the Standing Committee on Agriculture, Standing Committee on Home, Standing Committee on School Education, and Standing Committee on Services General Administration and Coordination.
Surprisingly, a minister with an MA in Arts is the Pro-Chancellor of universities where thousands of students are introduced to the latest trends in engineering and technology. Earlier Health Minister, Dr. Azra Fazal Pechuho, was appointed Pro-Chancellor of Medical Universities in a similar way of benefiting PPP leaders by the Sindh government.
The powers of the provincial minister for universities have been curtailed by appointing Rizvi as the pro-chancellor.