Sindh Cultural Day being celebrated with traditional enthusiasm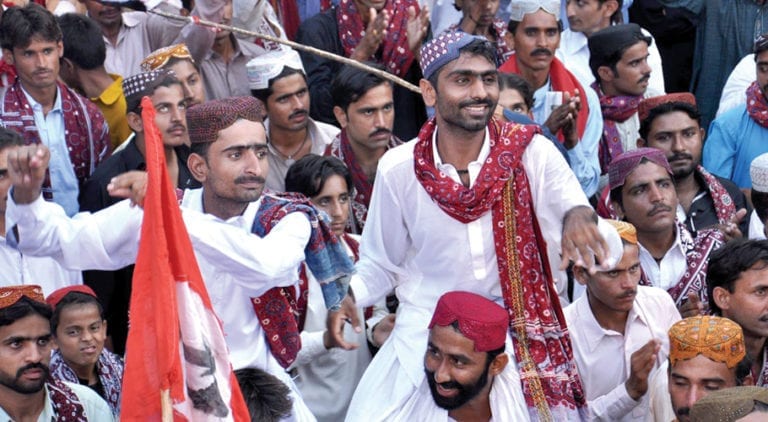 KARACHI: Sindh Cultural Day is being across the country with traditional enthusiasm and fervour to highlight the ancient civilization and rich culture of the province.
The day is marked every year on the first Sunday of December all over Sindh and other parts of Pakistan to promote culture, language and heritage of Sindh. To celebrate this day, men wear the traditional Sindhi cap, turban, and ajrak while women wear shawls and dresses with Sindhi embroidery.
Concerts are held to present Sindhi folksongs and rallies are also taken out to celebrate the day in which people from different walks of life participate with Sindhi attire to express love and harmony and demonstrate the peaceful and tolerant identity of Sindh.
Governor Sindh Imran Ismail and Chief Minister Syed Murad Ali Shah in their separate felicitation messages have termed the day celebrations as a symbol of brotherhood and harmony.
Sindh Governor said that the footprints of the culture of Sindh are found approximately 5000 years ago. He said that we wear ajrak to tell the world we are proud of our culture.
Sindh Chief Minister also congratulated on the occasion of Sindh Cultural Day. He said the day is celebrated to show respect for our culture. "Sindh is the cradle of a beautiful civilization," he said in a message on the occasion. He said we are proud to be born in Sindh and prayed the culture and civilization flourishes.
He called on celebrating the rich language, culture, and traditions of Sindh. He said we should respect and show tolerance towards all cultures and languages.
منهنجي طرفان سنڌ ۾ رھندڙ سنڌ سان تعلق رکندڙ سڀني ماڻهن کي سنڌ جو ثقافتي ڏهاڙو مبارڪ هجي. pic.twitter.com/CdS8OPMKsI

— Imran Ismail (@ImranIsmailPTI) December 6, 2020
Pakistan Peoples Party (PPP) chairman Bilawal Bhutto Zardari in his message on Sindh Culture Day said that the Indus civilization is the crown of Sindh's culture and gives a message of unity and harmony.
He said that this was the day of youth who are the real heirs of this rich heritage. He said the rich music or cultural dance of Mehran valley has given the arts a new color and there was a need to learn how to make our cultural activities a platform for the promotion of social and economic activities.
He that Sindh Culture Day should be celebrated every year with a new theme. He said the diversity of cultures, religions, ethnicities, and creed is the new nomenclature of modern peace and harmony. He extended his heartiest congratulations to all those celebrating the Sindh Culture Day.
Punjab Chief Minister Usman Buzdar also felicitated the people of Sindh and said that celebration of Sindh Cultural Day in Punjab will promote solidarity among provinces.
Speaking at a function in connection with Sindh Culture Day in Lahore, he said that Sindhi culture is one of the ancient cultures of the world. The celebrations of Sindh Culture Day have been going on for a week in Alhamra.
To celebrate Sindh Cultural Day, Alhamra has released a Sindhi song titled "Ho Jama Lo" which was liked and admired by a huge audience on different platforms.
وزیر اعلی پنجاب @UsmanAKBuzdar کی سندھ کےثقافتی دن پر سندھ کےعوام کو مبارکباد

وزیر اعلی آفس میں #SindhiCulturalDay2020 کےموقع پر
وزیر اعلی عثمان بزدار اور ڈاکٹر فردوس عاشق اعوان کو سندھی اجرک پہنائی گئی،
اور وزیراعلیٰ کو مشہور لوک گلوکار الن فقیر مرحوم کا پوٹریٹ بھی پیش کیاگیا pic.twitter.com/nRUK1P3Hyc

— Government of Punjab (@GovtofPunjabPK) December 6, 2020