Sheikh Rasheed arrives in Kuwait to hold dialogue on labour visas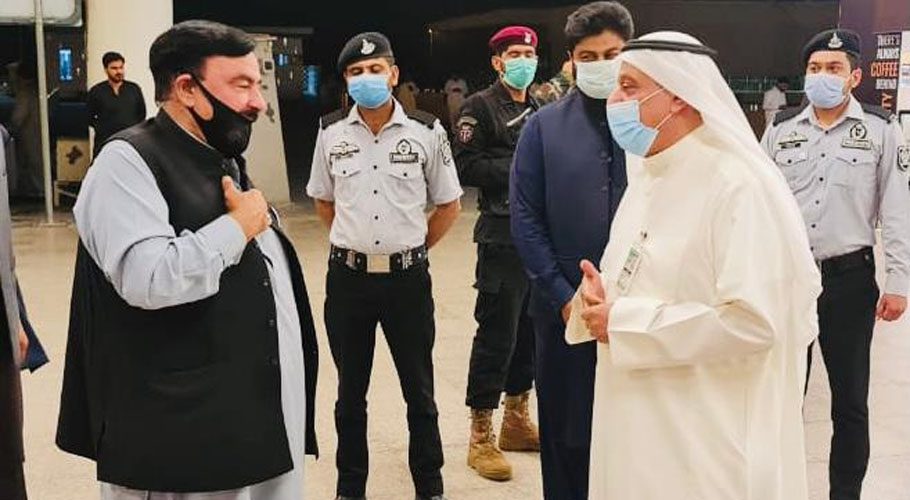 ISLAMABAD: Interior Minister Sheikh Rasheed has arrived in Kuwait to hold dialogue for the restoration of labour visas.
Before departure, Kuwait ambassador Mr Nassar Almutairi saw off the interior minister at the Islamabad International Airport.
Rasheed will hold dialogues with the Kuwaiti government for the restoration of visas of Pakistani citizens. He will also hold negotiations with the Kuwaiti authorities to restore labour, family and business visas.
The interior minister will hold a meeting with his counterpart in Kuwait. He will also convey the special message of Prime Minister Imran Khan to the Emir of Kuwaiti.
Islamabad, May 29, 2021
Kuwait's Ambassador in Pakistan His Excellency Mr. Nassar Almutairi seeing off Minister for Interior Sheikh Rashid Ahmed at Islamabad Airport prior to his departure for Kuwait on an official visit.https://t.co/Tc0IG0n2DJ pic.twitter.com/muKx62Y6pR

— Sheikh Rashid Ahmed (@ShkhRasheed) May 29, 2021
It may be noted here that Kuwait imposed a ban on the issuance of visas to Pakistani citizens since 2011. Earlier in March, the interior minister had announced that Kuwait is going to resume issuing visas for Pakistanis.
The minister's announcement came ahead of Kuwait Foreign Minister Sheikh Ahmed Nasser Al-Mohammed Al-Sabah's arrival in Islamabad. Al-Sabah arrived on a two-day visit at the invitation of Pakistani Foreign Minister Shah Mahmood Qureshi.
In November last year, the Kuwaiti foreign minister met with Qureshi on the sidelines of the 47th Session of Organization of Islamic Cooperation (OIC) Council of Foreign Ministers in Niamey, Niger.
Pakistan has announced it was ready to provide skilled workers to Kuwait's labour market after a meeting of Islamabad's ambassador to the Gulf country, Syed Sajjad Haider, and Kuwait's Public Authority for Manpower director general Ahmad Al-Mousa in January this year.
In July last year, Pakistan and Kuwait signed a government-to-government agreement for 600 Pakistani health care professionals to work in Kuwait, upon the request of the Gulf state, where coronavirus infections and fatalities were surging.