Ruet-e-Hilal Committee meets for Shawwal moon sighting today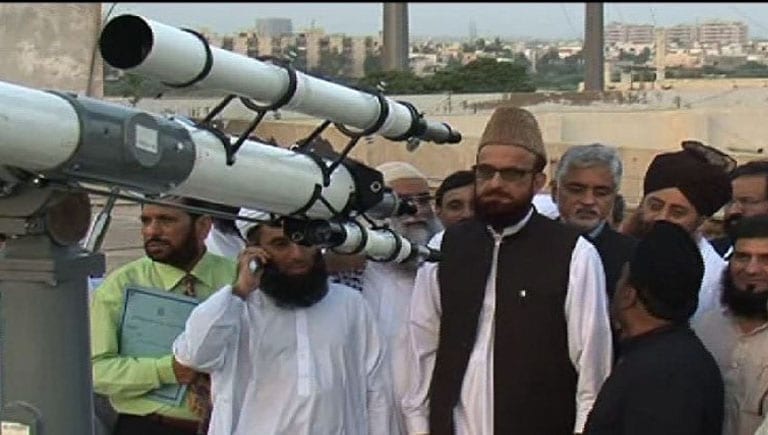 KARACHI: The Central Ruet-e-Hilal Committee is scheduled to meet in Karachi today for the sight of the crescent for the Islamic month of Shawwal.
Chairman of the Committee, Mufti Muneebur Rahman, will preside the meeting for the observance of Eid-ul-Fitr. The meetings of Zonal and District Ruet-e-Hilal Committees in their respective areas will also be held.
According to the Institute of Space Technology in Islamabad, moon sighting is possible with the naked eye on 23 May whereas it would be possible to sight the moon with a telescope.
The government has said that Eid Prayers will be held in mosques following the same standard operating procedures (SOPs) and precautions that were being observed for congregational prayers
It may be mentioned that the Shawwal moon was not been sighted in Saudi Arabia and the kingdom will celebrate Eidul Fitr tomorrow May 24. 
"Saturday will be the last day of the sacred holy month of Ramadan and Eid al-Fitr will take place on Sunday," the royal court and the supreme court said as quoted by the official Saudi Press Agency.
READ MORE: Fawad Chaudhry calls for dissolution of Ruet-e-Hilal Committee
Religious authorities in Jerusalem, Egypt, Jordan, Syria, Qatar, the UAE, Kuwait, Libya and Lebanon also said that Eid will be observed on Sunday. 
Many Muslim countries around the world have called on their citizens to limit their movement and face to face contact during this year's celebrations, due to the ongoing coronavirus pandemic.
Saudi Arabia has placed full curfew for the holiday period after easing some of its restrictive measures during Ramazan.
UAE has also announced that Sunday will be the first day of Shawwal marking the beginning of Eid-ul-Fitr. The announcement was made after moon sighting committee held a virtual meeting under the chairmanship of the Minister of Justice along with a number of senior officials on Friday.
Saudi Arabia and UAE officials said that mosques would remain closed for prayers on Eid-ul-Fitr. They have called on the people to adhere to safety guidelines to avoid the spread of coronavirus.