Resurgence of COVID-19: Can we keep students, teachers safe?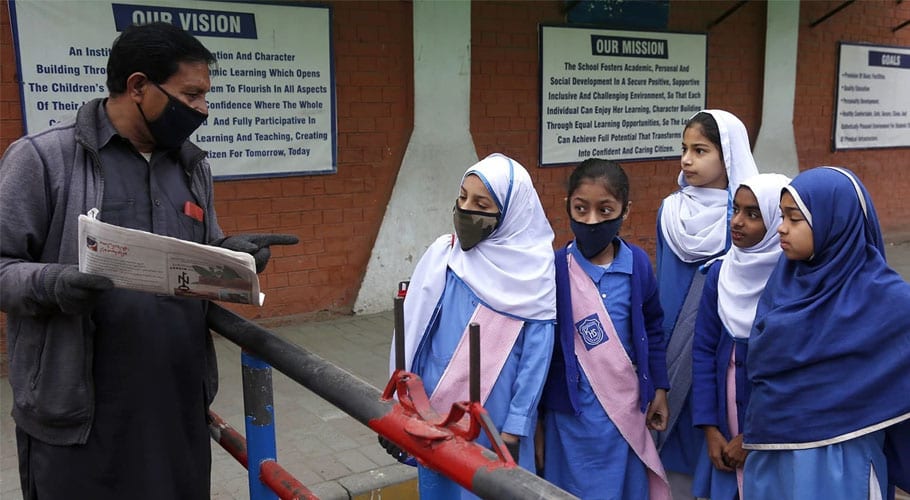 More than a six-month interruption, several universities, colleges and schools in Pakistan opened their doors to guardedly welcome a new term.
This was in acquiescence with the government's decision to reopen educational institutions in phases across the country, beginning with higher education institutions, vocational training centers, and classes 9 to 12.
Classes 6th to 8th will resume next week; while primary schools will reopen a week after that.
Undoubtedly, Pakistan has had relatively fewer cases of the novel COVID-19 compared to other countries, and some of the initial fears surrounding the virus have dissipated.
But the fears and threats came true, as soon as the reopening of educational institutions as the resurgence of COVID-19 cases reported in the country.
As the classes resumed, Sindh reported over 665 new cases of the virus and four deaths. Meanwhile, Punjab reported 499 new Covid-19 cases and six in a span of 48 hours.
16 students test positive for COVID-19
On Tuesday, an educational institute in Islamabad had been sealed after 16 students have tested positive for novel coronavirus.
The infections were reported the same day when schools, colleges and universities across Pakistan have been reopened, ending a nearly six-month-long closure due to the coronavirus pandemic.
National Command and Operation Centre (NCOC) shared by the NCOC, the institution was sealed after surfacing of 16 coronavirus cases.
15 teachers test positive for COVID-19
Eight teachers of Government Higher Secondary School Rashkai in Peshawar have tested positive for the novel coronavirus (today) on Wednesday.
According to the Elementary and Secondary Education Department of Khyber Pakhtunkhwa, the infected teachers have been sent to their homes on 15 days' leave.
Meanwhile, seven teachers of a government school tested positive for COVID-19 in Toba Tek Singh.
Reminder to parents, teachers and schools
Meanwhile, Special Assistant to the Prime Minister on Health Faisal Sultan tweeted a reminder to parents, teachers, school administrators and students to practice Standard Operating Procedures (SOPs) issued by the government.
Earlier, Dr Sultan had recommended that the number of students in a classroom is reduced and that lessons be taught in shifts so that social distancing could be maintained.
It is absolutely vital that all SOPs are followed to the tee, including avoiding crowds, regularly disinfecting surfaces, not sharing belongings, taking hand washing breaks, and ensuring thermal gun screenings at entrance points. If possible, some classes could be conducted outdoors.
Coronavirus situation in Pakistan
The coronavirus has infected 303,089 people in Pakistan and killed 6,393 people.
According to the National Command and Operations Center, 665 new cases and 4 deaths of coronavirus have been reported in Pakistan in the last 24 hours.
In Pakistan, 290,760 patients infected with coronavirus have recovered and the number of active cases has come down to 5,936.
According to the NCOC, 29,097 tests for coronavirus have been conducted across the country in the last 24 hours and a total of 3,024,987 tests have been performed so far.
The number of coronavirus cases in Sindh has reached 132,591. 97,946 cases have been reported in Punjab, 37,014 in Khyber Pakhtunkhwa, 13,690 in Balochistan, 15,984 in Islamabad, 2,441 in Azad Jammu and Kashmir, and 3,297 in Gilgit.
COVID-19 pandemic isn't over
The World Health Organisation (WHO) chief warned that though the global agency wants to see children returning to schools and people to their workplaces, no country should pretend that the pandemic is over.
The WHO has stated the decision to hold large gatherings must be taken with a risk-based approach in the local context. The world is divided as some countries have controlled the virus while others are still grappling with the situation.
It is necessary to pay head to health warnings and continue maintaining all protocols. It would be troublesome if there is a resurgence in cases and therefore, we need to maintain this downward trend.
A challenge to enforce the SOPs
Experts are although supporting the reopening of educational institutions across the country with strict adherence to the prescribed SOPs issued by the government.
But this is where the problem actually lies. There is a big question mark on the capacity of the authorities to enforce the COVID-19 SOPs.
While schools in the public sector— which are devoid of basic facilities like drinking water and toilets — are highly unlikely to follow the SOPs even for the sake of it, a large number of private schools in the country — those not belonging to reputable groups — will find it difficult to abide by them because of limited space and resources.
These factors may be a challenge to enforce the SOPs, the provincial governments must ensure compliance at both state and private levels, and teachers and administrators must remain vigilant.
While children have suffered and missed out on their education — lack of internet access and poor connectivity being major constraints — virus symptoms are mainly seen in older age groups, and it is the teachers and staff that are perhaps at greater risk.
The All Pakistan Private Schools Federation has already voiced its concerns, citing the financial burden of ensuring all SOPs are followed.
As soon as reopening of the schools, one college and hostel in Islamabad was sealed after 16 COVID-19 cases were reported on the first day back; in Toba Tek Singh and Peshawar, 15 government school teachers tested positive for the virus till today.
However, if resurgence in cases is recorded, then the government will need to reconsider or modify its position.