Rescue operation launched for missing mountaineers on K2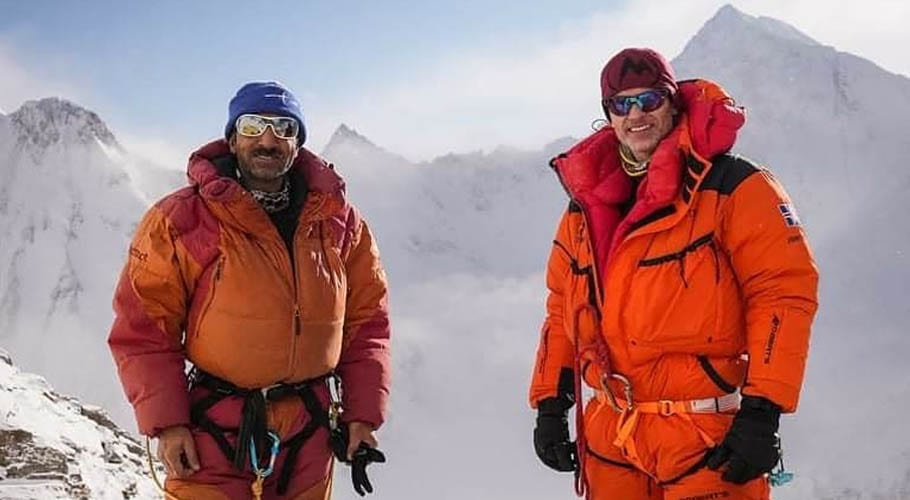 ISLAMABAD: A rescue operation was launched on Saturday morning for three mountaineers who have reportedly gone missing during a K2 winter summit attempt.
Pakistani mountaineer Ali Sadpara, Chile's John Snorri and Iceland's JP Mohr Prieto have been missing since Friday and have not been in contact with base camp for over 24 hours, said a senior official of Pakistan's Alpine Club.
It was earlier reported that by media that Sadpara had ascended the summit of K2 but the news has not been confirmed by the mountaineers. Alpine Club General Secretary Karrar Haidri told a news outlet that rescue operation has started and army helicopters are engaged in the efforts.
The helicopters reportedly flew to a height of 7,000 metres in their attempt to locate the missing mountaineers but were unable to locate their whereabouts and had to return due to worsening weather and light conditions.
"It's already been more than 30 hours, we (at basecamp) have received no news of John Snorri, Ali Sadpara, and Juan Pablo Mohr, since none of the GPS trackers seem to be working", Chhang Dawa Sherpa, their expedition manager, said in a statement.
An army helicopter has conducted a search flight for the missing climbers, Sherpa said in a separate statement. "Unfortunately, they cannot trace anything and the condition up in the mountain and even at the basecamp is getting poor", he said.
Earlier on Friday, Bulgarian mountaineer  Atanas Skatov fell to his death while trying to summit K2. Another mountaineer on the expedition Sajid Sadpara, who is Ali Sadpara's son, began to descent due to his oxygen regulator malfunctioning and has reached Camp 1 by a team of Nepali Sherpas.
On January 16, a group of Nepalese climbers made history by summiting the world's second tallest mountain in winter. Mount K2 is frequently described as "savage mountain" since a large number of climbers have lost their lives trying to summit it.